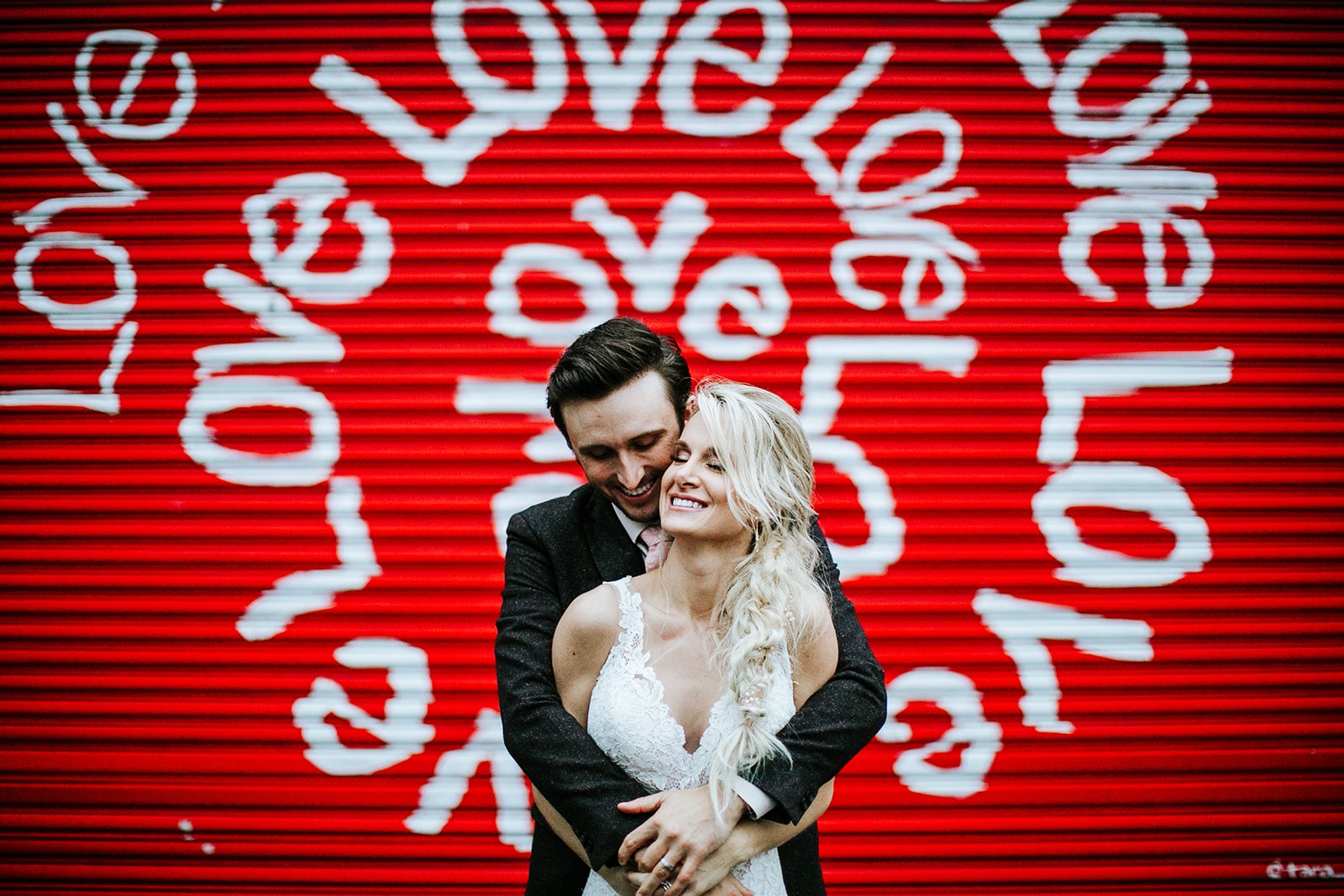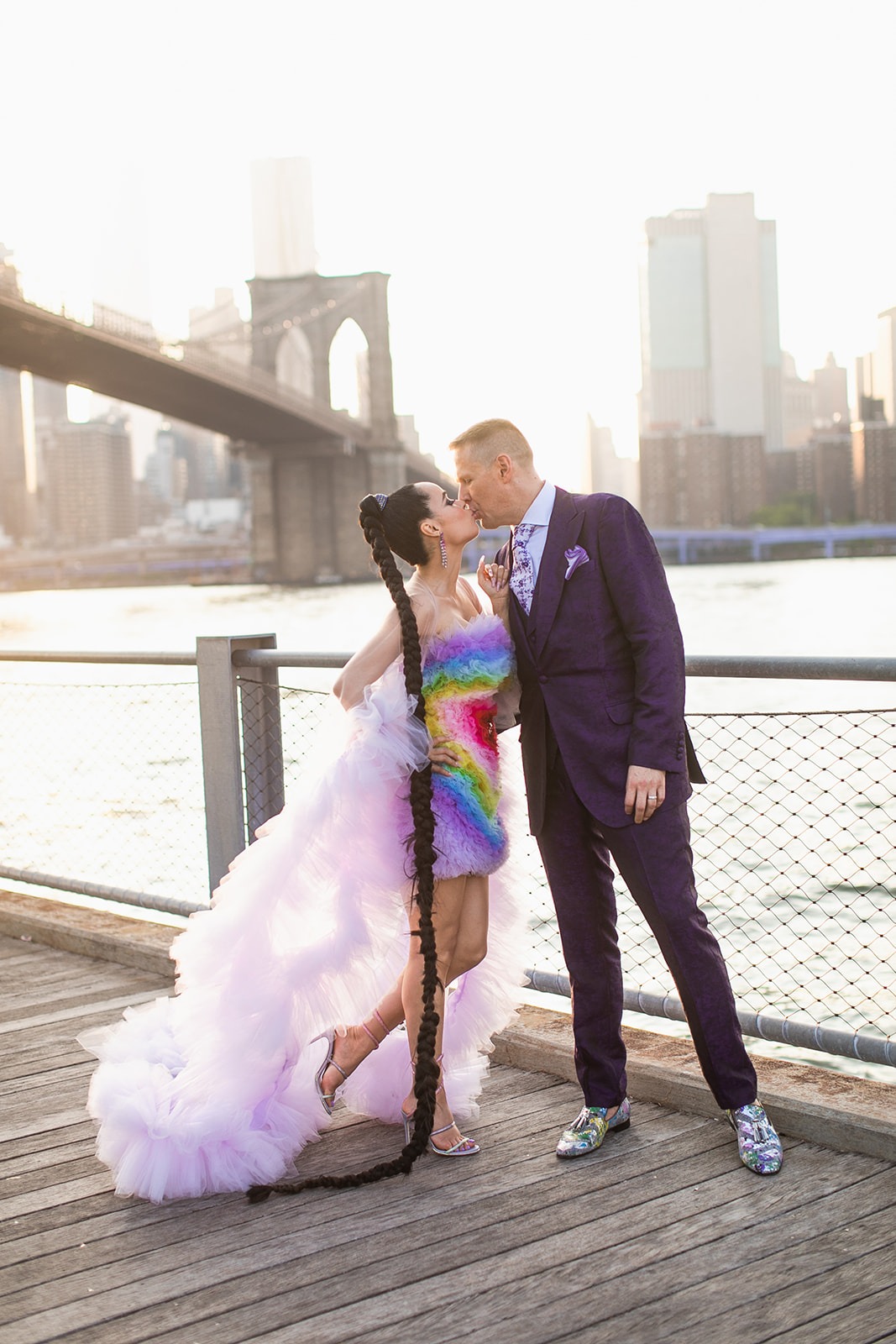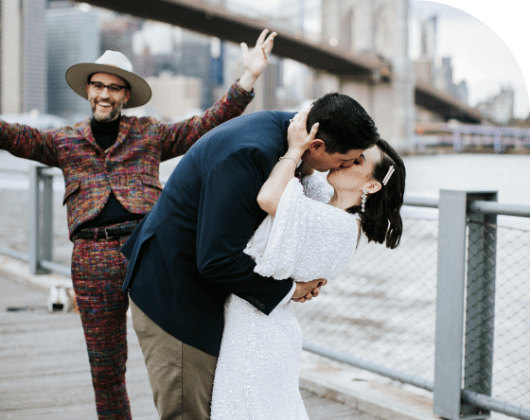 - 3 Hours Photography Coverage
- Custom Written Ceremony
- Our Most popular package
- Perfect if you want a few locations
for your photos
Your documentary videography comes with a sizzle reel and an extended docu-cut as well as your full ceremony
- 1.5 Hours Photography
- Coverage
- Custom Written Ceremony
I am sure you have more questions, and we have answers so check out our FAQ's below and if there is anything we did not answer you can send Jenny a VIDEOASK and she will personally get back to you within 24 hours.
frequently asked questions
A license ($35USD), an officiant and a witness. In order to receive your New York marriage license, you and your fiance must appear together at the City Clerk's office to file the application and present proof of age and identity. Acceptable ID must usually include a photograph and be government issued; the most common forms of proof are a driver's license or passport.
Anywhere your heart desires! We have married people on The Brooklyn Bridge, Grand Central Station, The Williamsburg Waterfront, The Highline, NYC Rooftops , The Roosevelt Island tram. We will work with you and guide you to find the perfect location for you and your boo. Something totally secluded and serene like a private garden or right smack on the Brooklyn bridge with loud cheers from dozens of well wishers.
Every ceremony is totally unique and personal. We send each of you a questionnaire with fun, intimate and sweet questions about you, how you met, your future plans, funny stories. We weave that into a engaging, poetic and entertaining script. You can also choose what readings that you want included or any cultural or spiritual traditions that you would like to include. Each ceremony is about 15 minutes and we send you your customized ceremony afterwards as a keepsake
Absolutely. You can add extra photography hours or any of our add-ons (i.e. video of the ceremony, chauffeured transportation, etc) up to 48 hours in advance. Ceremony music and videography usually need a bit more time to coordinate so let us know as early as possible if you are interested in those options.
Yes you can. When you book our photographer we will work with you on a custom photo itinerary but you are responsible for ceremony location and ceremony details to be coordinated with your officiant.
Yes you can! Our officiants are the best. And they would love to marry you. Our officiant will send you a love questionnaire and create a custom ceremony for you weaving in your unique  love story. Keep in mind when booking a  stand alone services we do not offer our eloping is fun planning assistance. Planning assistance is only included in our full service packages.
No we do not. We recommend reaching out to our friends at modern rebel co if you are looking for an elopement planner
Unfortunately no. These relationships with our exclusive vendors are contingent on working as an Eloping is Fun team.
You have 2 options here. If you are staying in NYC a few days after the ceremony and have time, then you can go back down the the city clerk with your license to receive your marriage certificate (the actual paper that binds you together for life! amen) It is an additional $25 fee and alot of couples choose this option so that they are not at the mercy of the postal system. The other option is to have us submit it for you and have the certificate mailed to you (at the address listed on your license) Here is the thing. We have no control over the City Clerk. They can get a bit swamped esp in the summer. But on a good day the license takes 2 weeks on a bad day it can take up to 8 weeks. I do however have the direct phone # for the commissioner if we ever run into a bump (the number listed on the city clerk website just takes you do a un activated voicemail, it is very kafka-esque)
You might have already spent hours scouring the internet and trip advisor forums trying to get to the bottom of this so i am going to break it down for you and save you all the hassle. We have done hundreds and hundreds elopements in NYC for couples form overseas and we have fielded any NYC wedding related question you could possibly think of. Ok you ready…drum roll please!!! Most english speaking countries do NOT need the extended certificate. (UK and Australia i'm talking about you) If your native country is non english speaking then you will most likely need one. I once had to get the extended license for a couple from Norway and it was an ALL day process, with visits to 3 different govermental offices and long security lines. That said, you should know that the requirement for an extended license is not dictated by the US, once you are married here you are legally married, no matter where you live but the extended license requirement is dictated by your home country and your home country only. So check with your consulate or local governance.
For our favorite locations like DUMBO, Grand Central and the Brooklyn Bridge do not require a permit. If you will have more than 20 people at your ceremony in DUMBO you will need a permit. Let me know and i can send you the application. There are some spots in Central park that require permits which are $35. The only exception is the Conservatory garden which requires a $400 permit and it is strictly enforced! There are a ton of security guards patrolling the park at all times and they will kick you out of you don't have a permit.
This is the million dollar question. We have a few options: If it is awful, torrential hurricane-force water pouring from the sky then we can, based on availability, move your elopement up a day. If it is just one of those drizzly annoying rains, or if you cannot move your elopement date then we have the option to use the Manhattan Bridge Overpass in Dumbo, Grand Central Terminal or The Metropolitan Museum of Art The Met option would be guerrilla style, (meaning that we would not have permission but we have a beautiful secluded spot where we can have some peace and privacy. This option is definitely more for the adventurous types!) We also have a few indoor spaces hidden in our pockets, available for a fee
We can (with the help of strong coffee) pull together an amazing elopement in 36 hours! We also book up to 1 year in advance. So reach out if you have a particular date in mind. The holidays book up very quickly!
Absolutely. Destination weddings, micro weddings. We do it all! For all gatherings with over 5 people, we do add an extra planning fee to coordinate all the extra details to make the day smooth and seamless and make sure your guests have directions to the nearest bar during our photo shoot, or transportation arranged for the group to dinner, or a place to sit for grandpa during the ceremony. I am type A so i love details and helping you plan a micro-wedding.
You'll get a beautiful web gallery with all your edited un-watermarked images that you can share with all your friends and family back home. You can also order prints from your web gallery and download all your images in high resolution. Your photos are ready within 6-8 weeks with a sneak peek sent out within a week of your wedding.
YES! We can be your witness and have been for many elopements.