5 Speakeasies PERFECT For A Low-Key NYC Elopement
As the old saying goes, "There ain't no party like a hotel party". If you're planning your awesome elopement in the city, what better place to do it than an NYC hotel suite or penthouse?
There are so many epic hotel suites for NYC elopements dotted all over the city, ideal for private and romantic celebrations with killer skyline views. Pop some champagne, say your vows in one of NYC's most gorgeous hotels, and let us organize it all for you. We've got your perfect NYC elopement photographer, videographer and celebrants waiting in the wings and ready to help you plan a truly hitchstoric (sorry not sorry) elopement!
Here are the best honeymoon suites in NYC for elopements that are so good, you'll never want to leave.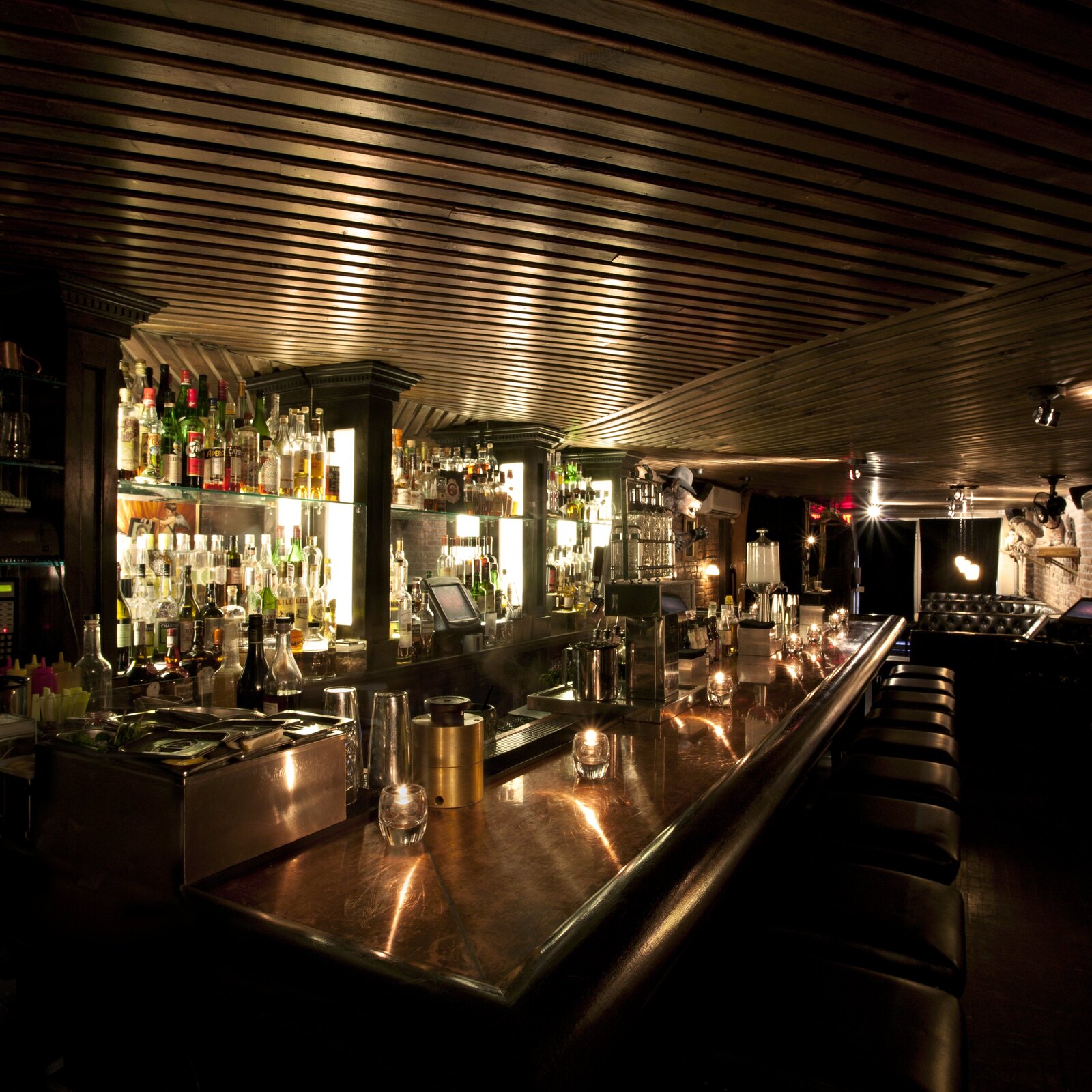 Please Don't Tell is such a vibe – I'd even go so far as to say it's iconic. PDT New York is in the East Village, and you enter via a phone booth inside Crif Dogs, a hot dog restaurant next door. Pick up the phone, say the word, and voila, you're in. The whole concept is designed in a way that's authentic to the traditional speakeasies of the past, which we love.
Inside, moody lighting, sexy cocktails, and great hospitality await you. I honestly can't think of a more fun place to elope than one of the best hidden cocktail bars in NYC. You could have the actual ceremony here or celebrate afterward – either would be awesome.
As you might expect, a reservation is the best way to get in, but not to worry: we can hook you up with this and make sure you get the best table in the house.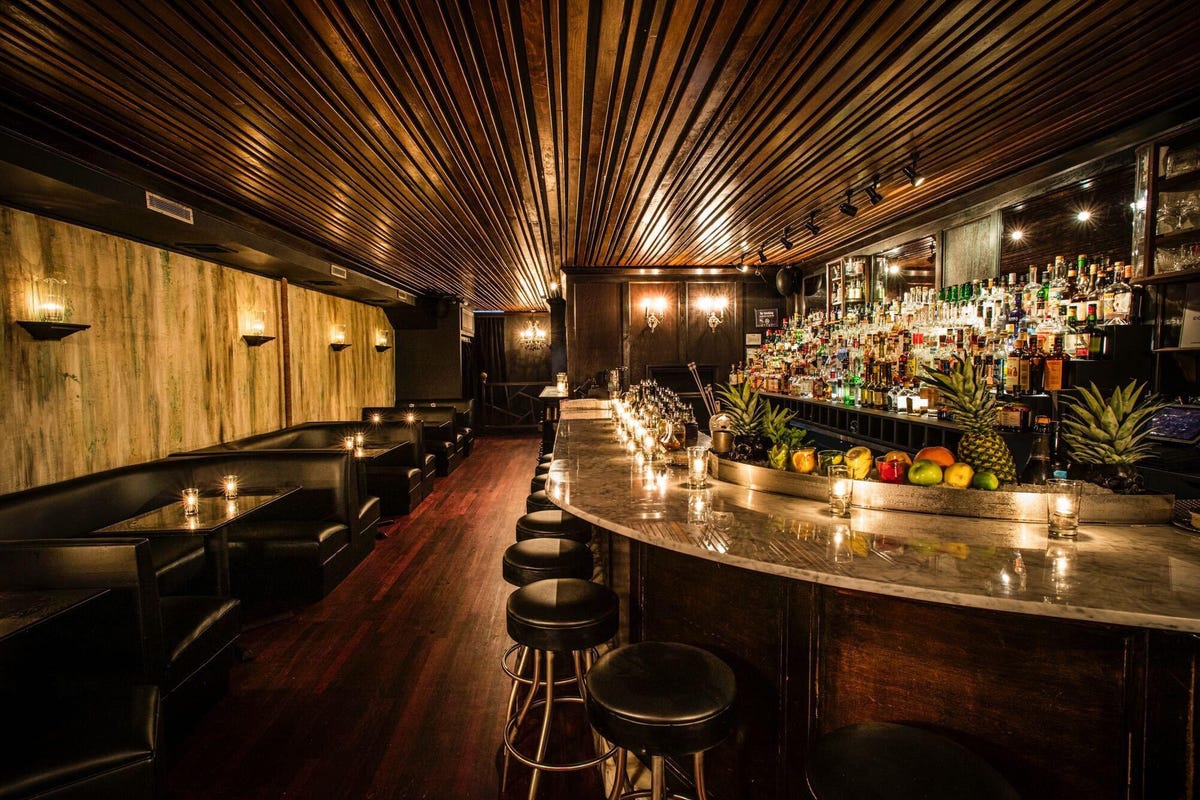 Another East Village speakeasy that we just can't get enough of is Death and Co. Until death do us part might be pretty old-school to include in your vows, but Death and Co is definitely an awesome way to kick off your married life together.
This cocktail bar only opened in 2007, but has quickly picked up lots of acclaim (including Best American Cocktail Bar in 2010). Drinks are served by bar staff in bow ties and suspenders – they seriously deliver and you'll never have a bad drink here. Any cocktail lover will be in heaven.
Death and Co elopement photography is going to be gorgeous too, thanks to the gorj lighting and stylish decor. For couples who love the energy of the city, photos taken here would be such a fun reminder of your epic NYC elopement!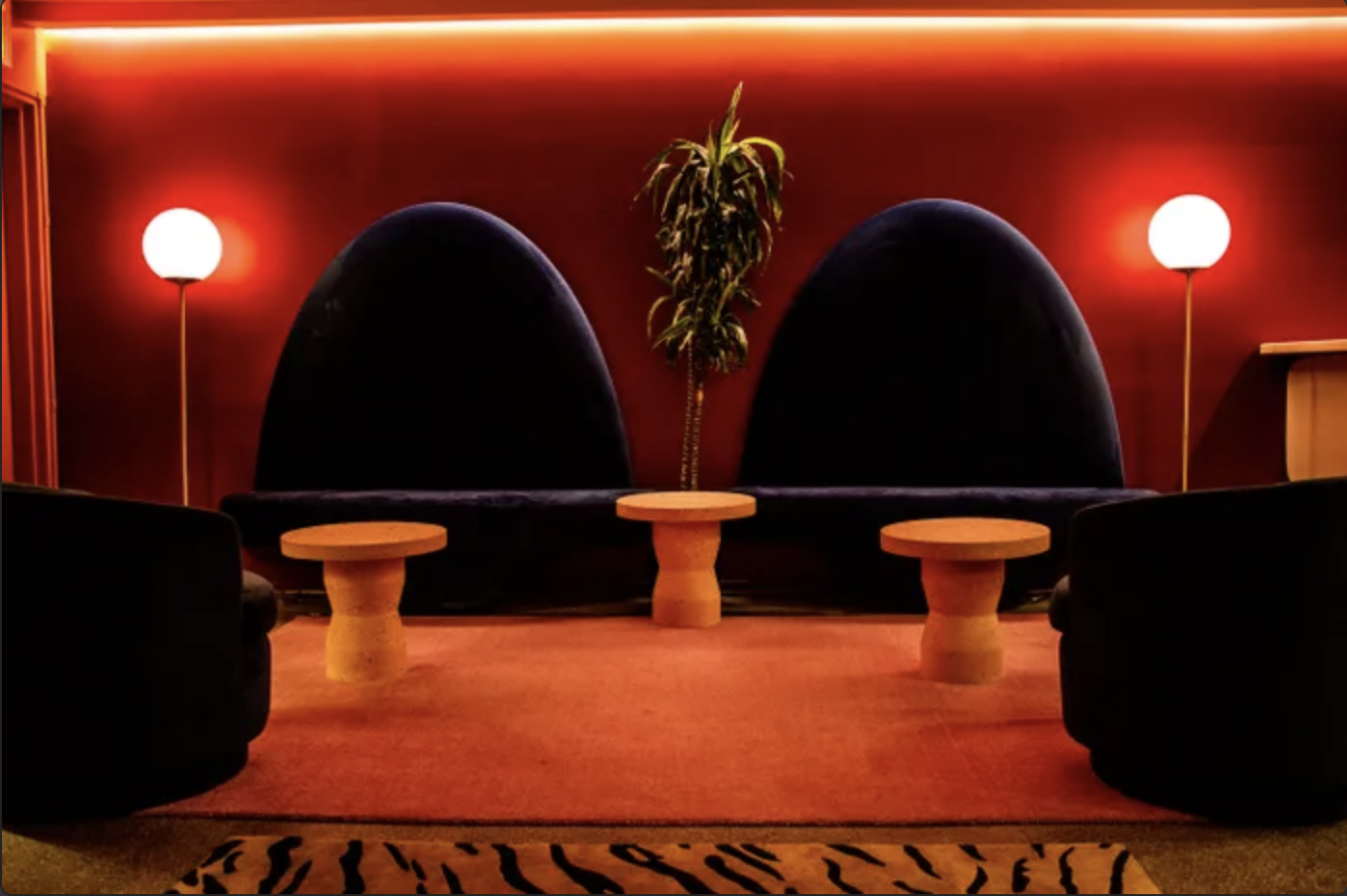 Shut the front door – there's a speakeasy in NYC's subway?! Yup! Whether you're a native New Yorker or visiting from overseas, you gotta admit that nothing is more iconic than a hidden bar behind a subway turnstile.
La Noxe is tucked away behind a door within the 28th Street station in the Chelsea area of Manhattan. Once you're in, get ready – this small bar is one of the coolest places for an NYC speakeasy elopement.
Swanky velvet couches, sweet tunes, and delicious drinks… Sounds like the perfect NYC elopement to us! You'll have such a badass time, you won't want to leave.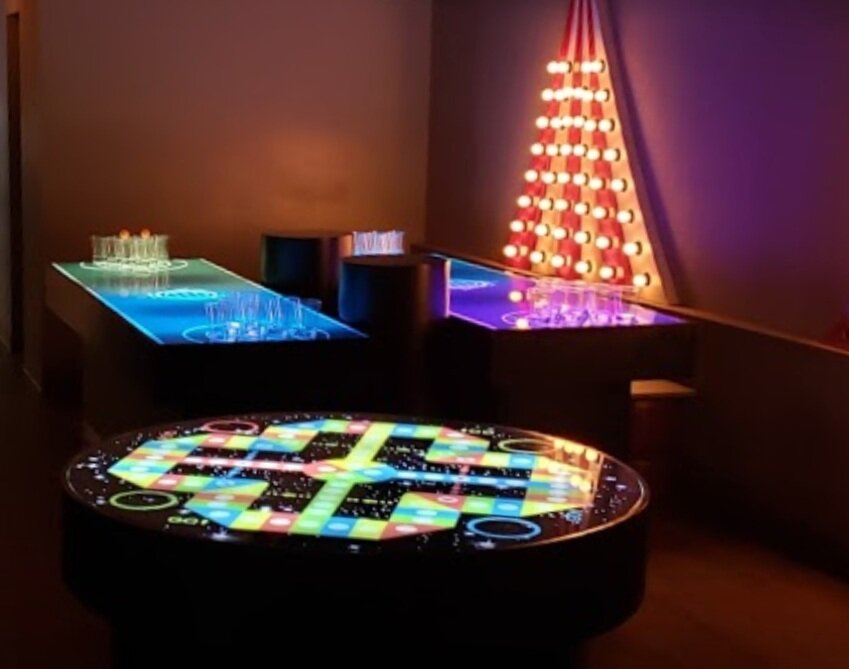 Seriously, even if you don't elope here, be sure to stop into Basement Chinatown when you're in the city. This unique underground bar is all about games, drinks, and food – think old-school arcade games, beer pong, darts, and the obligatory neon signs.
There's a great selection of Japanese whiskeys and the bartenders are super knowledgeable. I love this venue for fun-loving couples who just want to celebrate without all the stiff formalities of traditional weddings.
You'll find Basement on Mott Street in Chinatown, and they're open seven days a week. While you're in this part of the city, you'll also find amazing laneways, food hawkers, and vibrant energy, so you could elope in Chinatown and then come to Basement to celebrate after. We can also put together a photoshoot through Chinatown as you experience all the sights, smells, and tastes.
Speakeasies are all about fun – and fun elopements are literally what we're here for!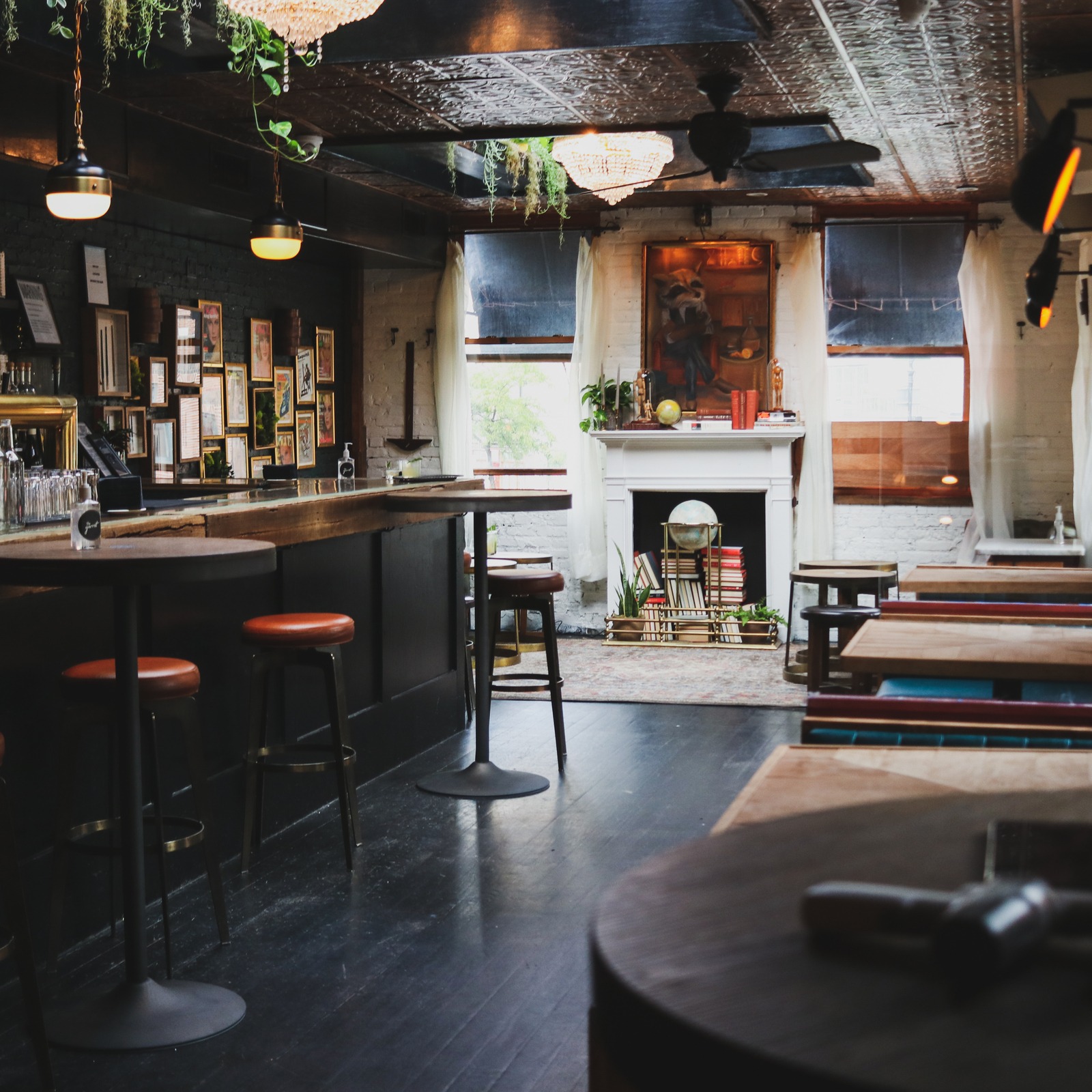 OK, so this is literally the best/coziest/most inviting bar in the West Village. You can come intending to just have one drink and find yourself still there hours later. A Garret West elopement would be a really classic NYC experience, as the West Village is just so charming – historic townhomes, cobblestoned streets, and art, culture, and music everywhere you look.
Like all good speakeasies, the Garret is a bit hard to find. You'll walk through a Five Guys (midnight snack, anyone?), then up a hidden staircase in the back of the restaurant. Once inside, you'll love the exposed brick walls, comfy barstools, and friendly staff.
The Garret West isn't luxurious or pretentious – but that's what we like about it. A Garret West elopement is perfect if you want to party into the night, just the two of you or with your besties. It'd be a great place for small groups to celebrate after an NYC micro-wedding, too.
If reading this has left you keen for a cocktail and an awesome elopement, let us do the planning for you. Whether you want a speakeasy rooftop elopement, something secret and underground, or somewhere super luxe, we know all the best spots and can't wait to set you up with the NYC elopement adventure of a lifetime!