5 Incredible Hotel Suites For Your NYC Elopement (Including A Penthouse!)
As the old saying goes, "There ain't no party like a hotel party". If you're planning your awesome elopement in the city, what better place to do it than an NYC hotel suite or penthouse?
There are so many epic hotel suites for NYC elopements dotted all over the city, ideal for private and romantic celebrations with killer skyline views. Pop some champagne, say your vows in one of NYC's most gorgeous hotels, and let us organize it all for you. We've got your perfect NYC elopement photographer, videographer and celebrants waiting in the wings and ready to help you plan a truly hitchstoric (sorry not sorry) elopement!
Here are the best honeymoon suites in NYC for elopements that are so good, you'll never want to leave.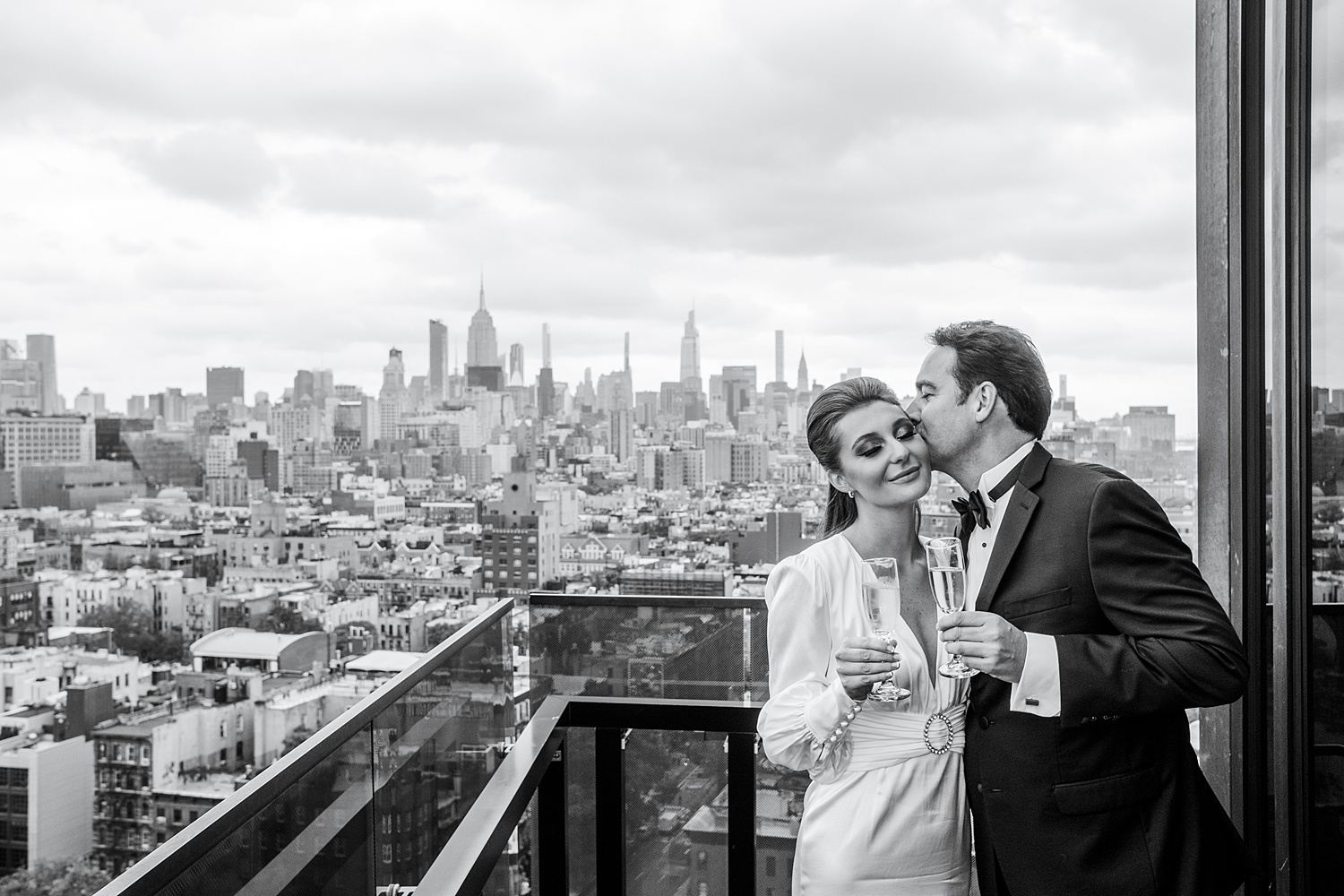 If you're gonna do NYC, why not go all out? SIXTY LES Hotel, in Lower Manhattan, is just perfect for a penthouse elopement in NYC. Seriously, this place is legit – imagine yourself on the top floor of a super-chic hotel, floor-to-ceiling windows with city views, a private balcony, and 2,000 square feet to call your own. Oh, and you seriously need to see the bathtub.
This spot is sleek, modern, and inviting, with fab decor, making it ideal for 60 LES elopement photography. We've shot here before and the couples we've worked with have always been blown away with the results. We'll bring the photographer, you bring the love!
If you're looking for a penthouse suite for an NYC elopement, stop your search here – this one is screaming your name.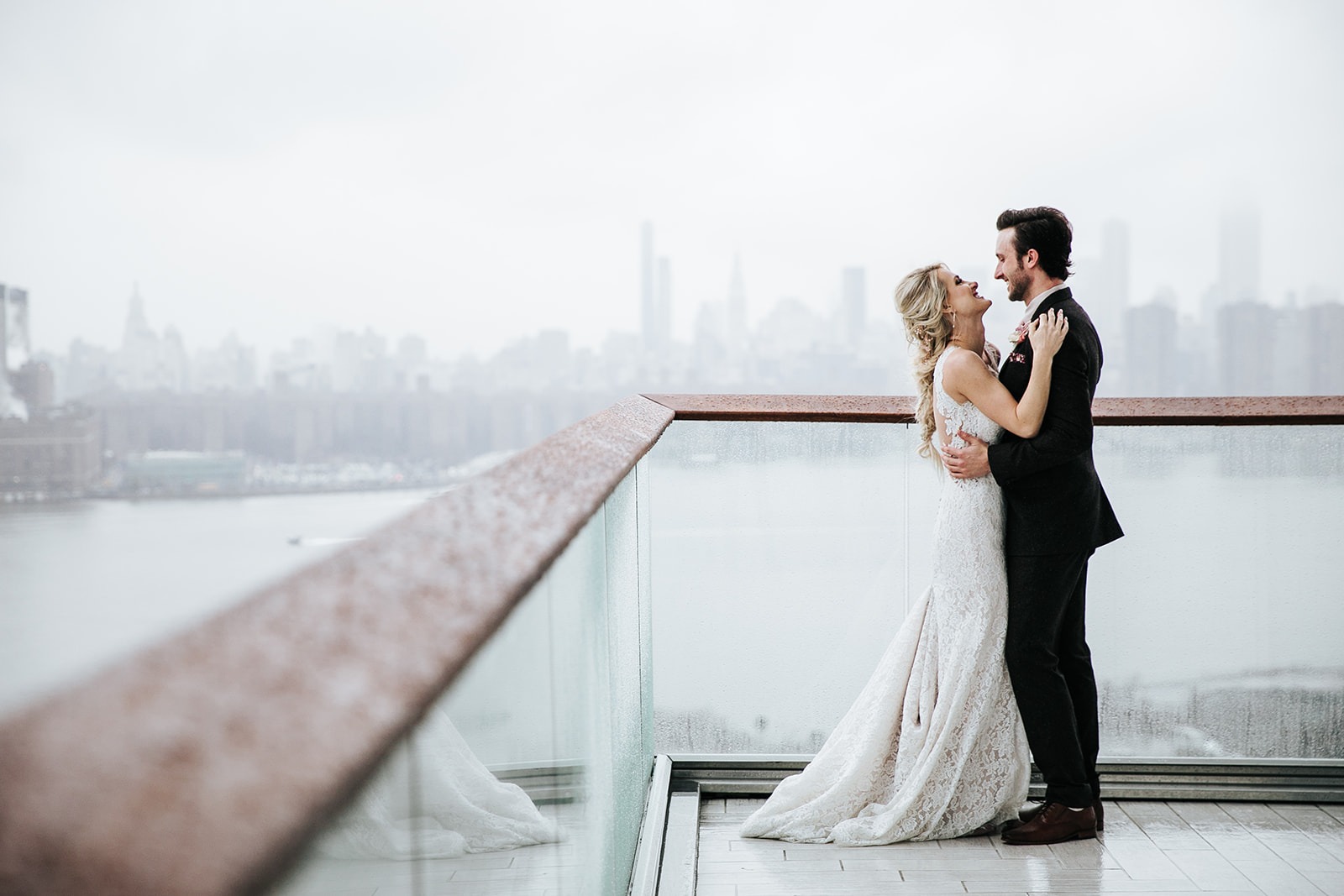 A William Vale elopement is just what you need if you're looking for somewhere cool and creative. This Brooklyn hotel, set in trendy Williamsburg, is just a stroll away from the East River and close to tons of awesome bars and restaurants.
Most of the suites have wraparound balconies, but for real ballers, check out the Vale Garden Residence, complete with an open-air jacuzzi on the balcony. You can definitely arrange your Brooklyn elopement outdoors on the balcony, which would be gorgeous.
There's plenty to do in Brooklyn (if you ever want to leave your awesome suite!). It's worth visiting the Brooklyn Art Library, browsing the area's cool vintage shops, or checking out the live music scene. All in all, it's so easy to have a fun and quirky elopement in Brooklyn.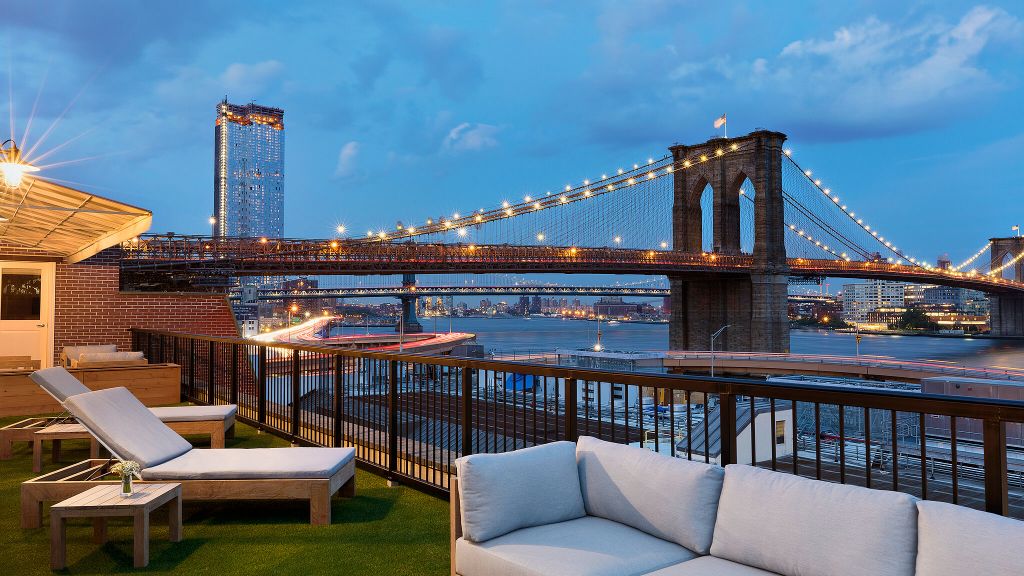 If you want to get married in the heart of the city, check out the understated luxury vibes of Mr. C. Seaport Hotel. It's in Manhattan's historic South Street Seaport, and if walking around here doesn't make you feel like you're on a Hollywood film set, I don't know what will.
Think cobblestoned waterfront, historic ships, and lots of delicious alfresco dining. You could also plan an outdoor elopement here, if you're super keen to just be in and around the beautiful energy of the city.
Mr. C Seaport is a product of the famous Cipriani family of hoteliers, and it just oozes luxury and sexiness. Their suites are a blend of traditional and modern, with dark oak floors, huge soaking tubs, and incredible hospitality. This means your Mr. C Seaport elopement photography will be next-level glam (black tie optional but encouraged).
This swanky pad is a splurge, but how often do you elope in NYC?! Live it up, baby – you're worth it.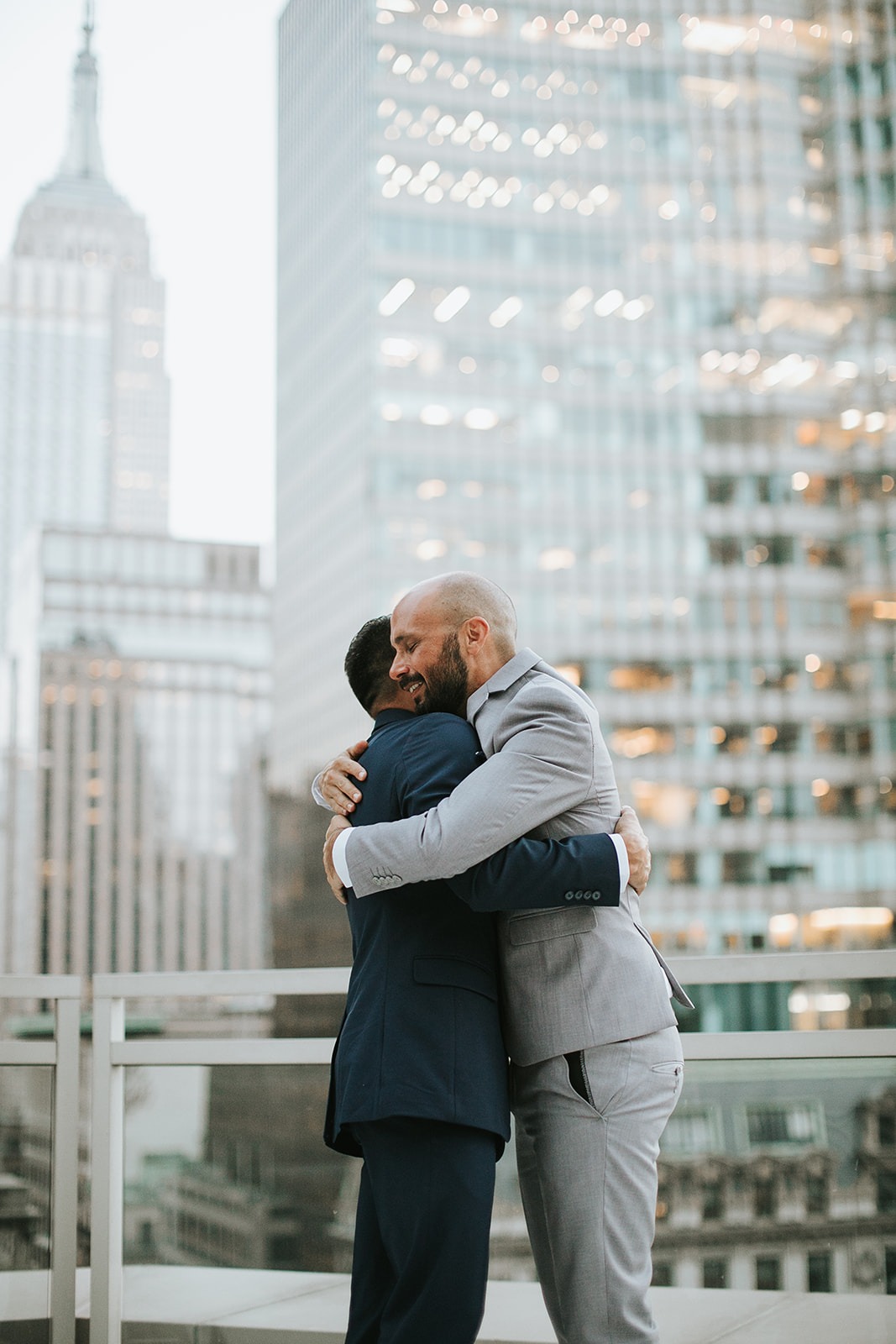 If only 5th Avenue will do, cruise on over to Andaz 5th Avenue. Part of the Hyatt family (so awesome if you're into hotel loyalty programs), this enticing Manhattan hotel is right by Bryant Park.
Their jaw-dropping Empire Terrace Suite makes for an epic Andaz 5th Avenue bridal suite – you can literally gaze right out on the New York Public Library and Empire State Building from the wraparound terrace. Damn, does it get any more NYC than that?
We can hook you up with bubbles, catering, confetti, and a videographer, ensuring you have the best time ever on your Manhattan elopement – with the photos and videos to remember it by.
Just outside your hotel, all of the major tourist attractions are so close by, so this spot is sweet if you're visiting NYC and want to stay in the heart of the city – we'll give you plenty of tips for fun (non-cheesy) things to do.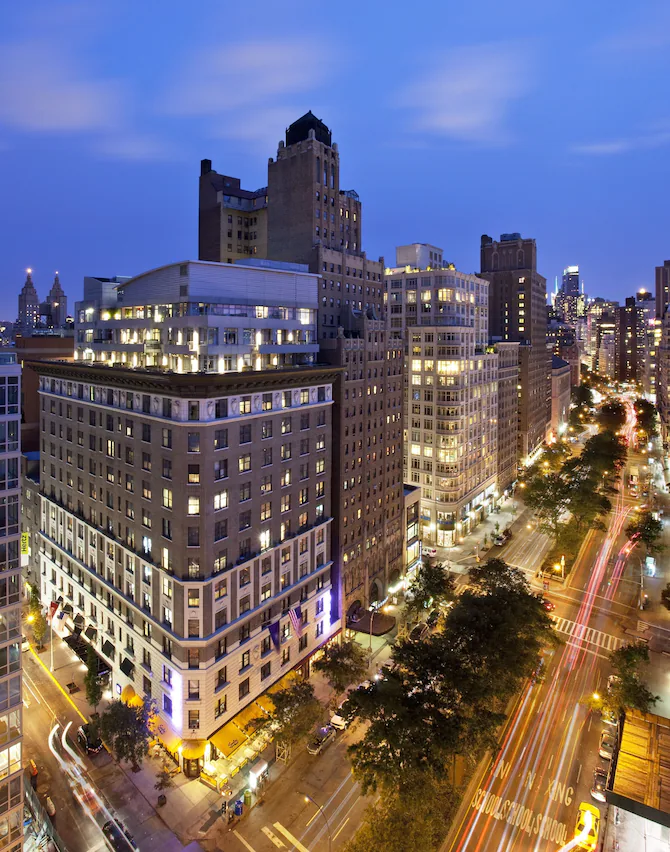 I know NYC can be hella expensive to visit, which is why I love the Arthouse Hotel. This cute hotel is in the Upper West Side of Manhattan, but without the eye-popping Upper West Side prices.
Their NY Suite with Terrace is super cool, with a spacious outdoor balcony, Keurig appliances, and stylish decor. There's also a swanky bar and restaurant with exposed brick, wood panels, and sweet decor, so let's head down for a celebratory drink and grab some photos – this space is perfect for Arthouse Hotel elopement photography.
The rooms and suites are bright and airy too, great for those fun "getting ready" photos on the morning of your ceremony. Don't worry, we'll arrange the mimosas and donuts (and yes, we know where to find the best donuts in the city!). So many streets around this area are completely picturesque too, so we can plan an outdoor photoshoot – yellow cabs guaranteed!
There's no shortage of wedding suites in NYC, but these are some of the best in our book, offering stylish decor, great locations, privacy, and all those luxe amenities you deserve for your big day.
You want your wedding to be stress-free, and we're here to make it happen. To plan a bespoke, all-inclusive NYC elopement at any of these hotels, or even a vow renewal, just say the word – we can't wait to help you experience our amazing city on your wedding day.