5 NYC ELOPEMENT CEREMONY LOCATIONS WITH SKYLINE VIEWS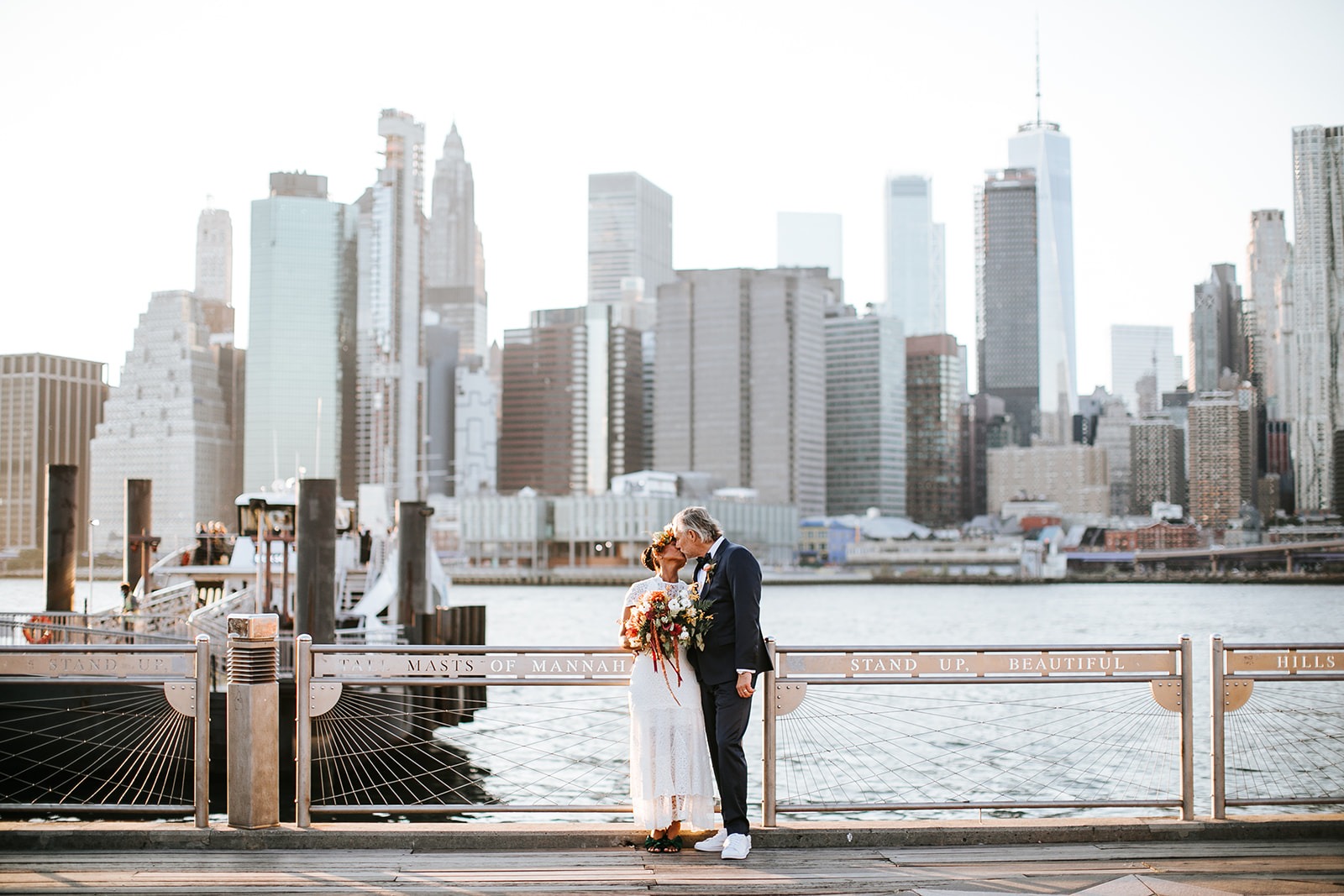 We're not gonna lie – the DUMBO waterfront is one of the best places to elope in NYC. This former industrial area is now thriving with life, from funky bars to award-winning restaurants to those Insta-famous views of the Manhattan Bridge. We know some pretty epic spots, if we do say so ourselves, where you can elope outdoors and take in the sights, or we can also recommend some sweet bars and restaurants with badass views.
Oh, we'll also show you the best photo spots in DUMBO for your elopement that (a) aren't cheesy and (b) won't look like everyone else's photos. If you're an out-of-towner, you'll especially love exploring this popular part of NYC – we're happy to recommend some great bars and restaurants nearby.
SIXTY LES Hotel
penthouse suite
You only get married once (usually) so live it up in style in one of NYC's best penthouses, within the SIXTY LES Hotel. Set in the Lower East Side, this penthouse is one of the top New York City elopement locations if you're craving sweet, sweet privacy.


With a swank, modern design, the penthouse most definitely brings the wow factor – and those gorj skyline views. Bring the bubbles and your besties, or just enjoy a private elopement and let us arrange the catering.
It's crazy romantic, super easy, and you can spend a few nights there after your ceremony for a combined elopement/honeymoon – gotta love it.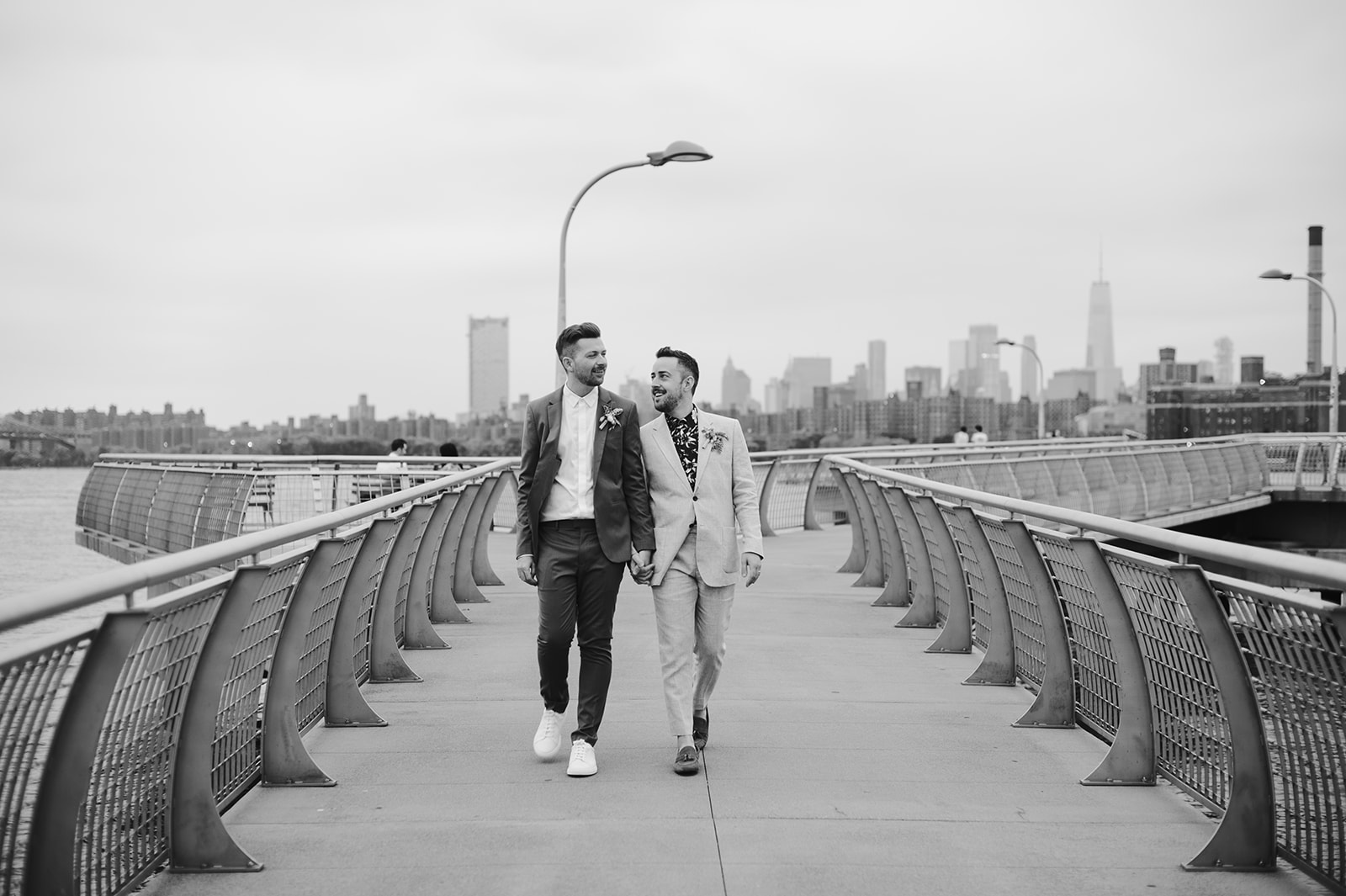 A WNYC Transmitter Park elopement is perfect for couples who want something outdoors and a bit out of the ordinary. The views from this public park in Brooklyn are hella good, of course, but we also love some of the park's unique features.
Formerly owned by public radio station WNYC, Transmitter Park only became a public space in 2012, so it's one of NYC's newest parks – pretty cool. Because it's new, it also means your wedding photos will be unique, as it's not a massively popular wedding venue (yet!).
We dig the park's pedestrian bridge (it's the perfect place to say your vows), but the whole area has a really cool atmosphere – think exposed brick, street art, and long piers. This gives us plenty of opportunities for unique wedding photos too, especially if you love the urban/industrial vibe.
Make it extra: This waterfront park is a sweet urban oasis and it's super close to Paulie Gee's, if you want to have the true New York experience – their pizza is worth the wait.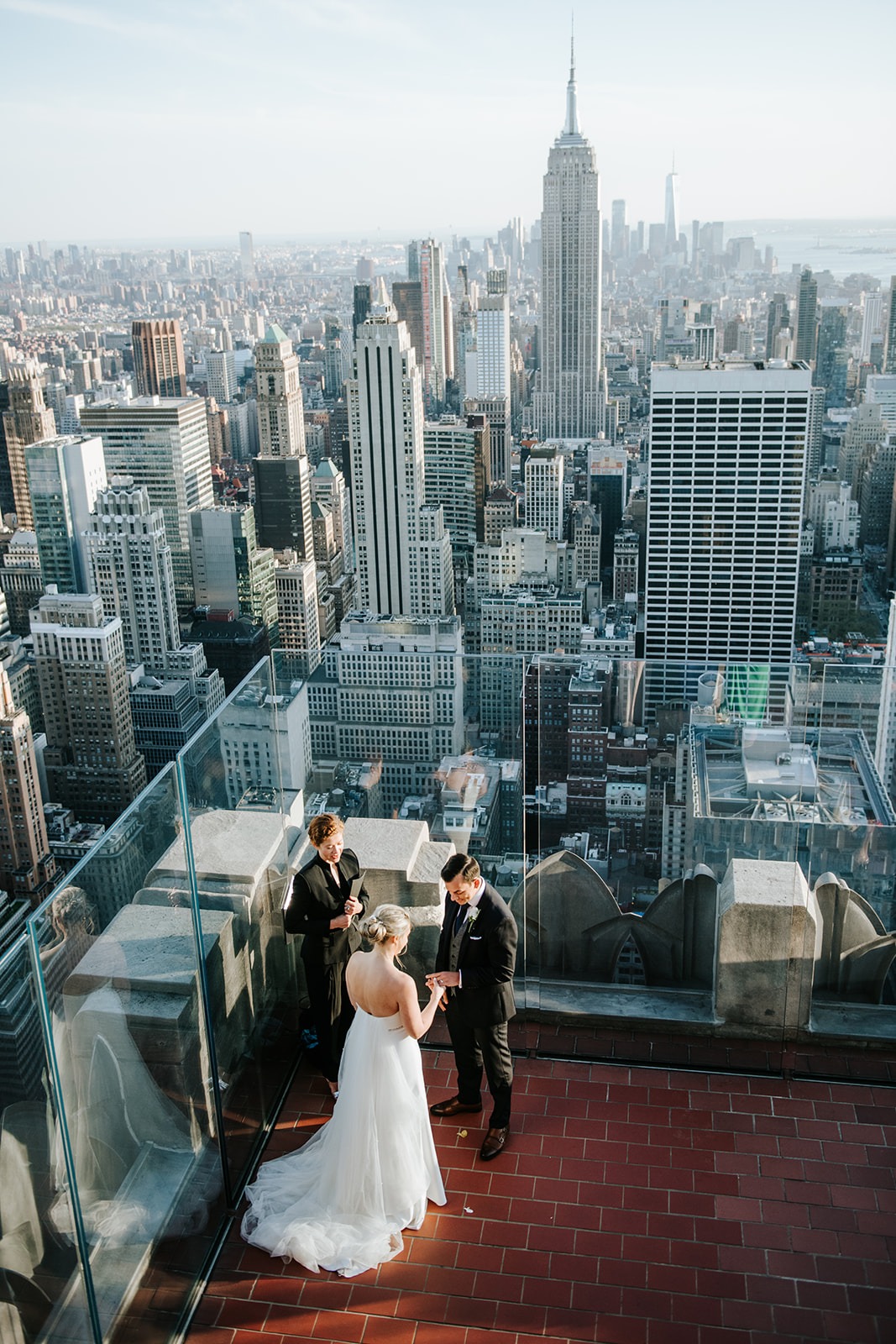 When it comes to rooftop elopements in New York City, there's no better view than Top of the Rock. It is a super popular tourist destination? Yes. But is it an awesome elopement destination? Also yes.

A Top of the Rock elopement gives you the best views of the city, bar none. It's on top of NYC's famous Rockefeller Center and it truly makes you feel like you're on top of the world. Hell, you basically are – it doesn't get any better than NYC, baby.
Make it extra: Always dreamed of ice-skating at Rockefeller Center? For a winter elopement, we can definitely set this up for you after you elope. Talk about romantic (and if you sneak a flask onto the ice with you, we won't tell). Yes, it's cold, but winter elopements in NYC are really something special.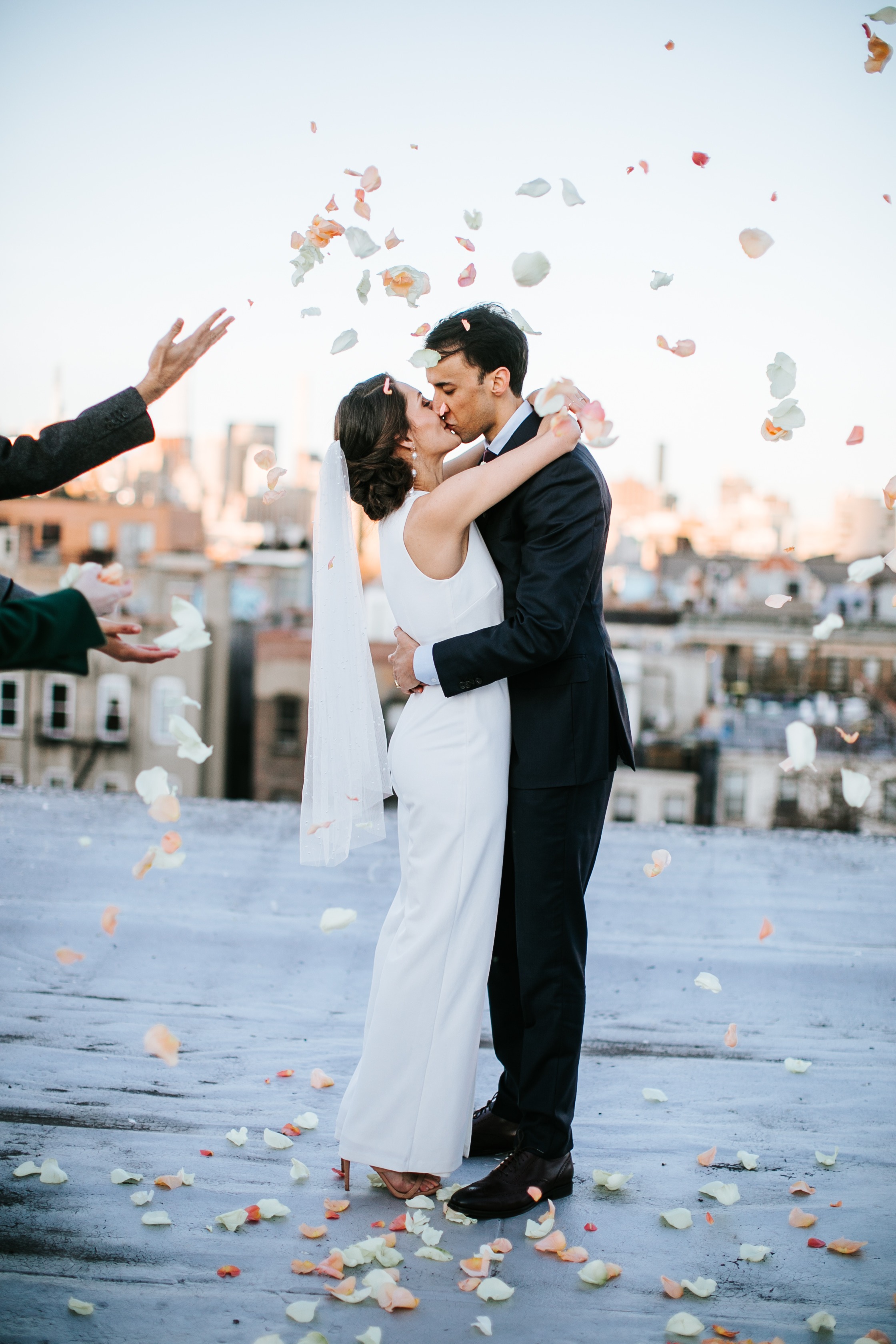 Some of the best small rooftop wedding venues in NYC aren't in the guidebooks. Think private rooftops that might be part of a bar, Airbnb, or venue available for rent. Private spaces give you the ultimate flexibility to decorate, bring in catering and drinks, and enjoy your elopement sans total randos (which can be an issue for some couples in public spaces).
Poppin' bottles, staying up late, celebrating in luxury with your nearest and dearest – all awesome reasons to go for a private rooftop space, as they're great for micro-weddings. Our team can arrange whatever you need, so your venue will be elopement-ready from the moment you walk in.


NYC is so big that there's a huge array of rooftops with skyline views, many available for rent. If you're keen for a private rooftop, let us know and we can point you in the right direction.
Of course, there are so many more awesome skyline views and rooftops elopement venues to consider in NYC, so if you want to discuss other options, just reach out! Or, if you're dead set on one of the above, awesome – just say the word and we'll make everything happen for you. Easy.
We're very serious about making eloping fun for everyone, whether you're a born-and-bred New Yorker or visiting the Big Apple from overseas. We'll handle all of the boring details for you, so all you need to do is show up looking and feeling fly, ready to have an absolute baller of a time!
The best thing about NYC is..........well, that it's freakin' NYC!