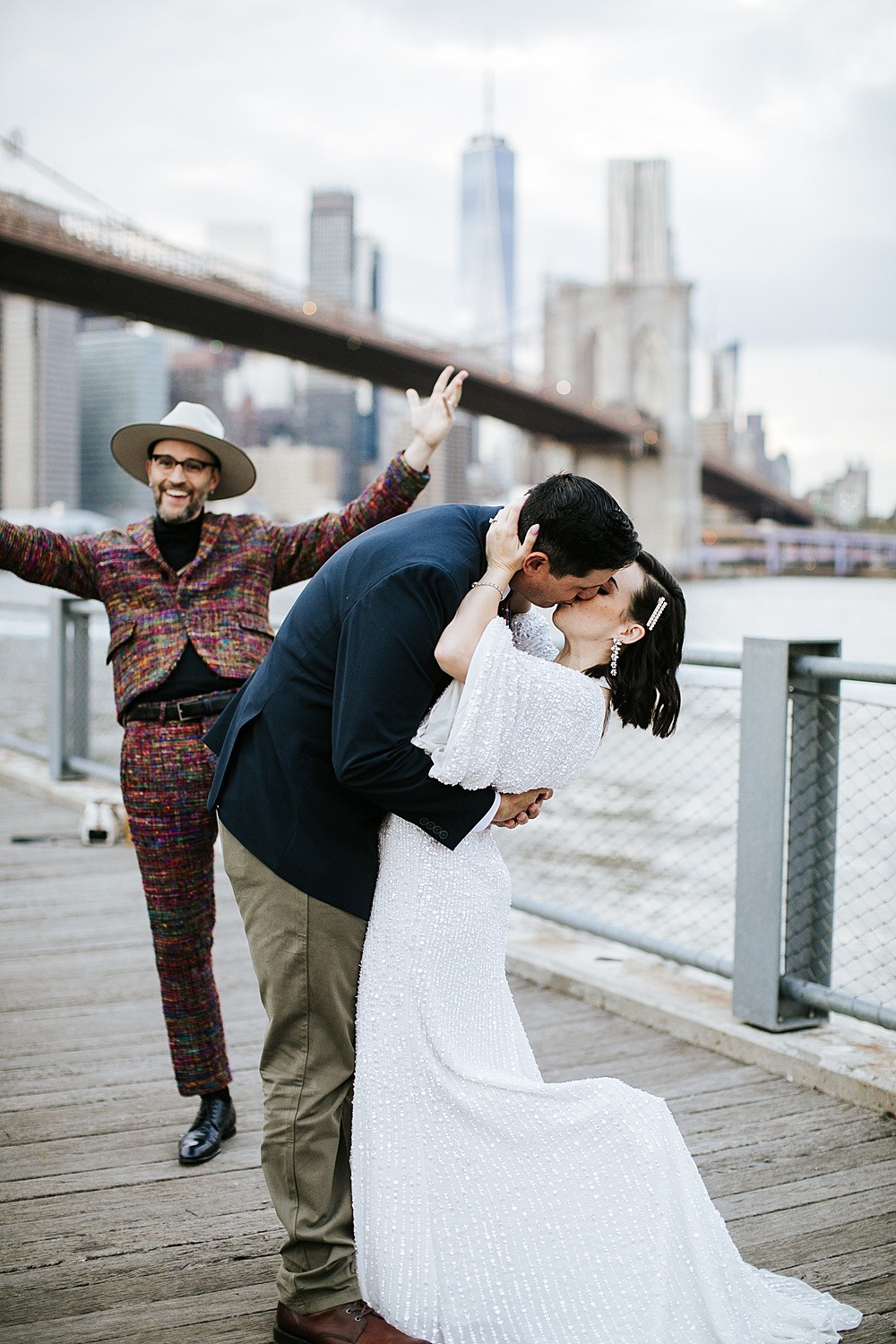 8 Fun Ideas For Your NYC Elopement
Ready to shake it up, ditch tradition, pop some bottles, and get married, NYC-style?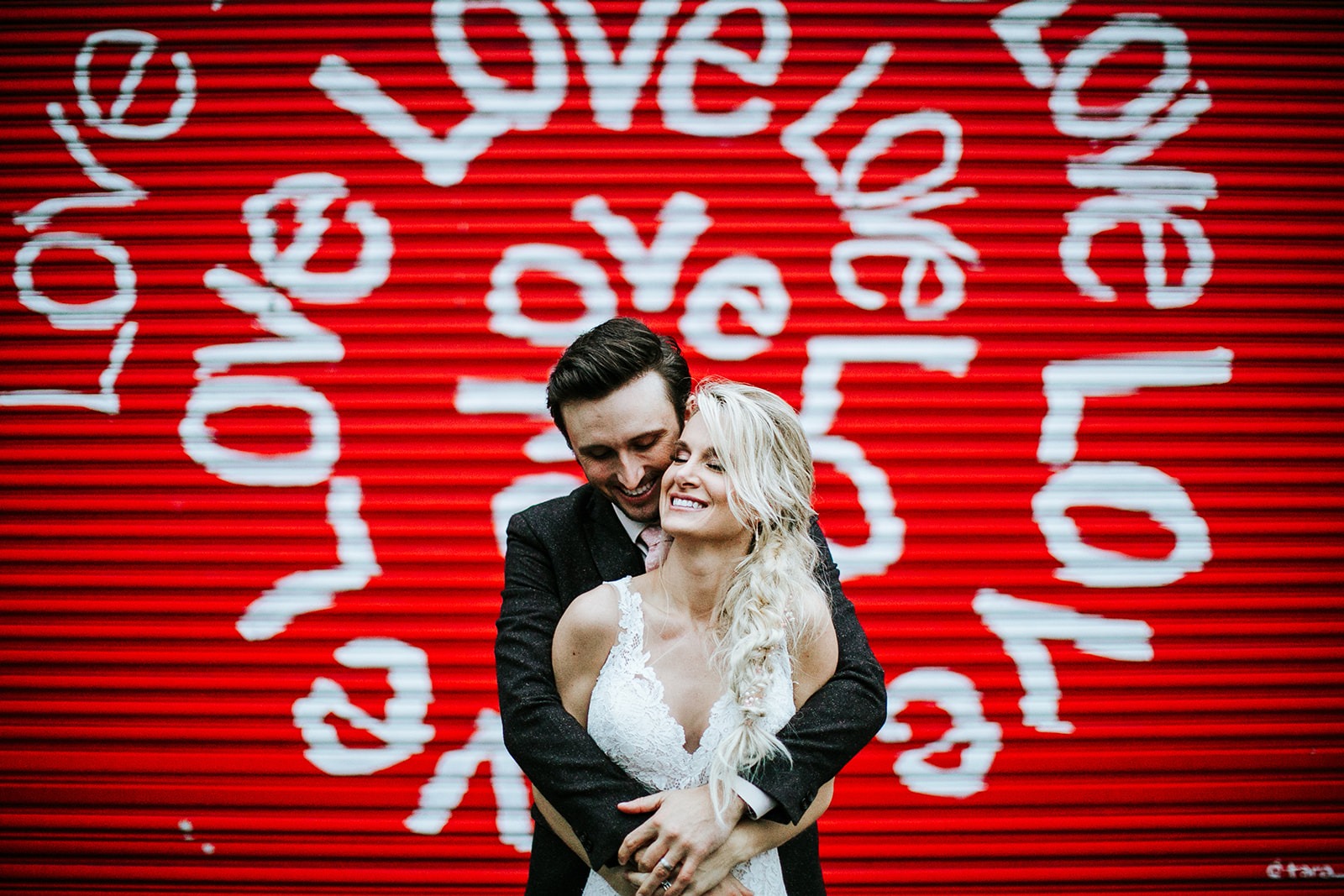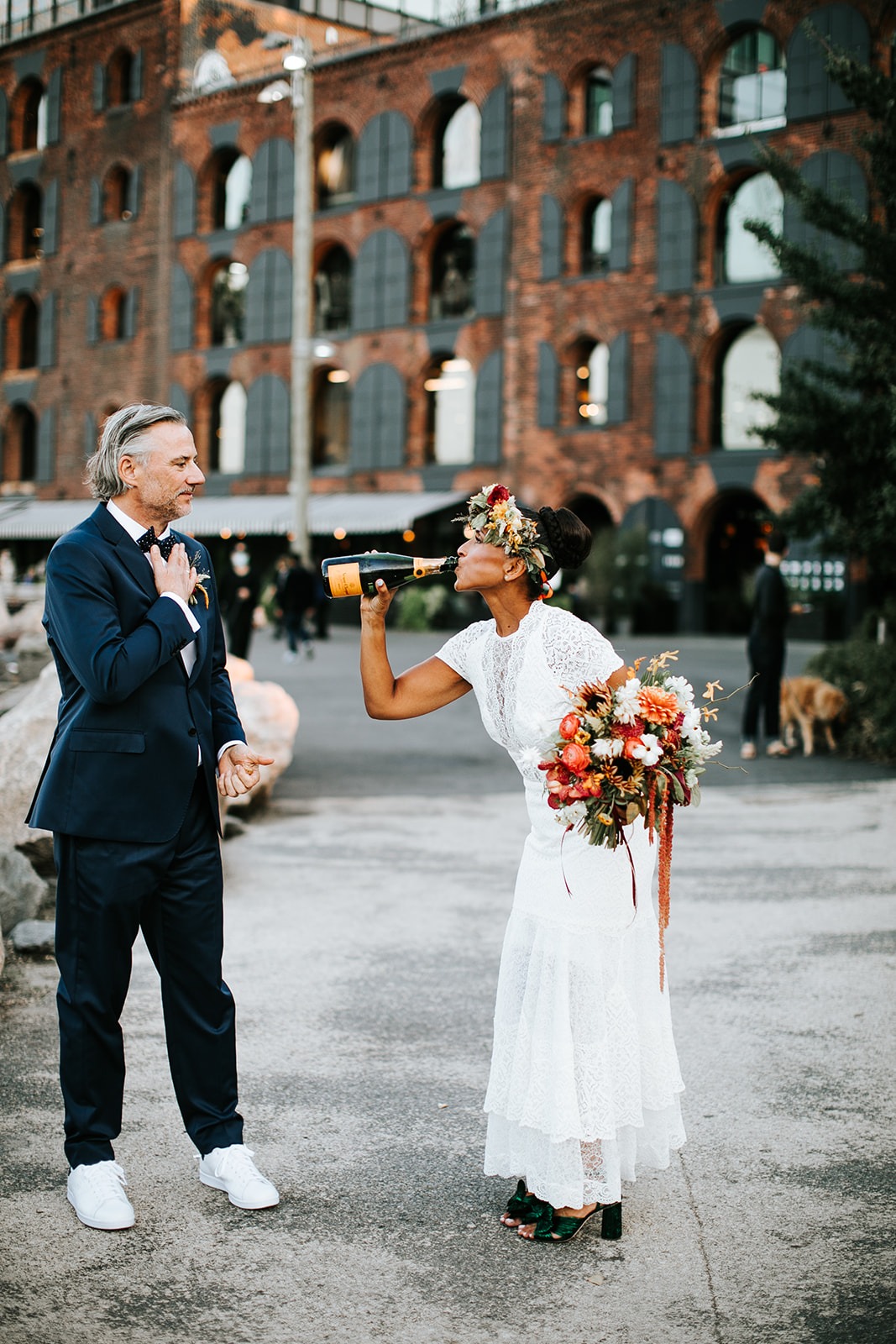 We're not called Eloping is Fun for the hell of it – we are genuinely all about eloping in New York in the most fun, authentic, and exhilarating ways possible, whether you're on roller skates or in a ballgown.
There's nothing we like more than collaborating with couples on fun ideas for an NYC elopement, complete with a photographer, celebrant, and custom-written ceremony.
Oh, and champagne. Lots of champagne.
Here are the best places to elope in NYC, each with a fun twist – because you (usually) only get married once.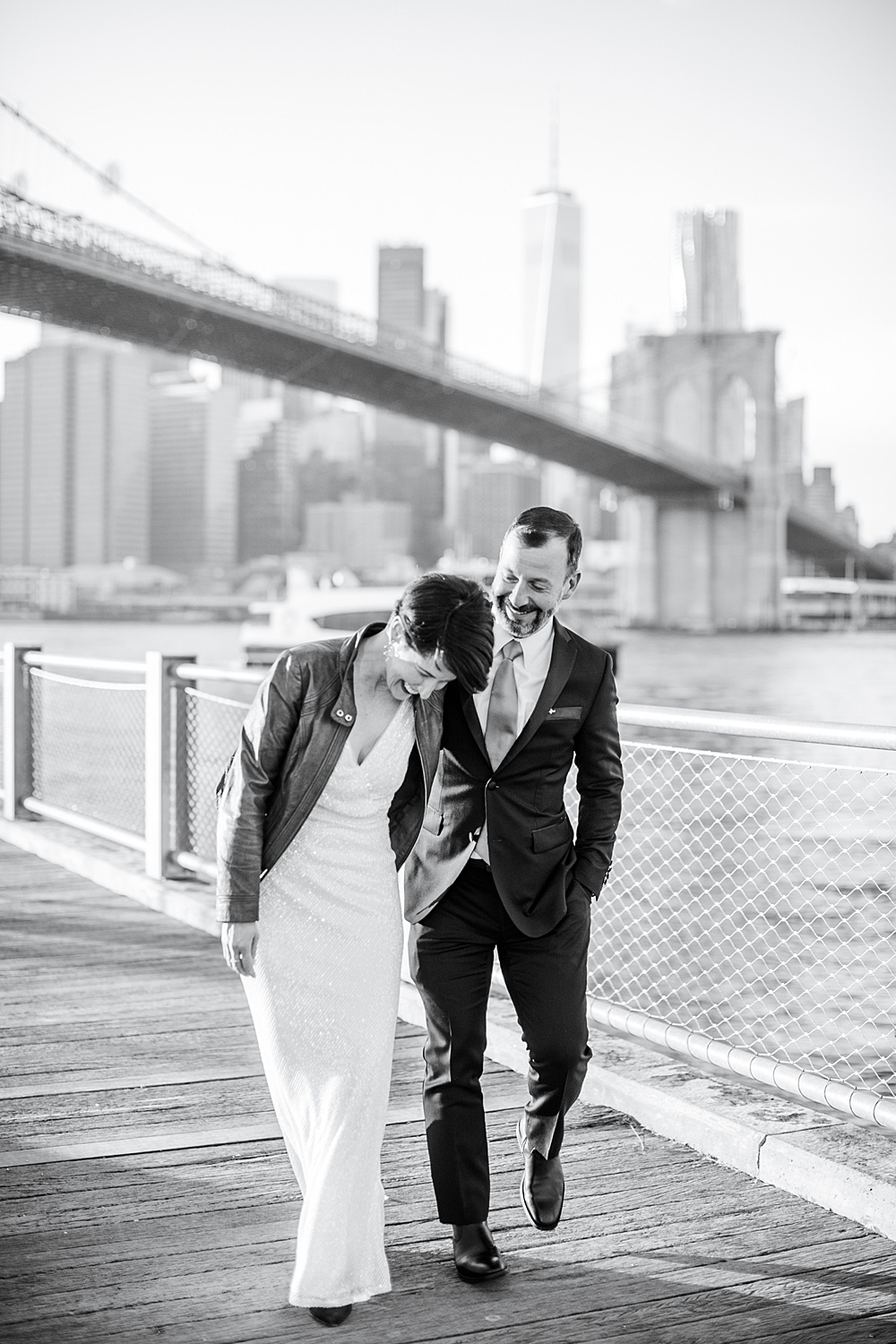 Both locals and out-of-towners love stopping by the base of the Brooklyn Bridge in DUMBO since it absolutely delivers those classic skyline NYC views. If you live and breathe New York, or are a NYer at heart, we would love to plan your elopement right on the waterfront or on the bridge itself.
Sure, it's a public place, but we can hook you up with a little spot where you won't be disturbed, except perhaps by a jogger cruising past. DUMBO is also so good for photos – our NYC elopement photographer knows all the best spots, from converted brick warehouses to historic cobblestone streets. DUMBO just screams NYC!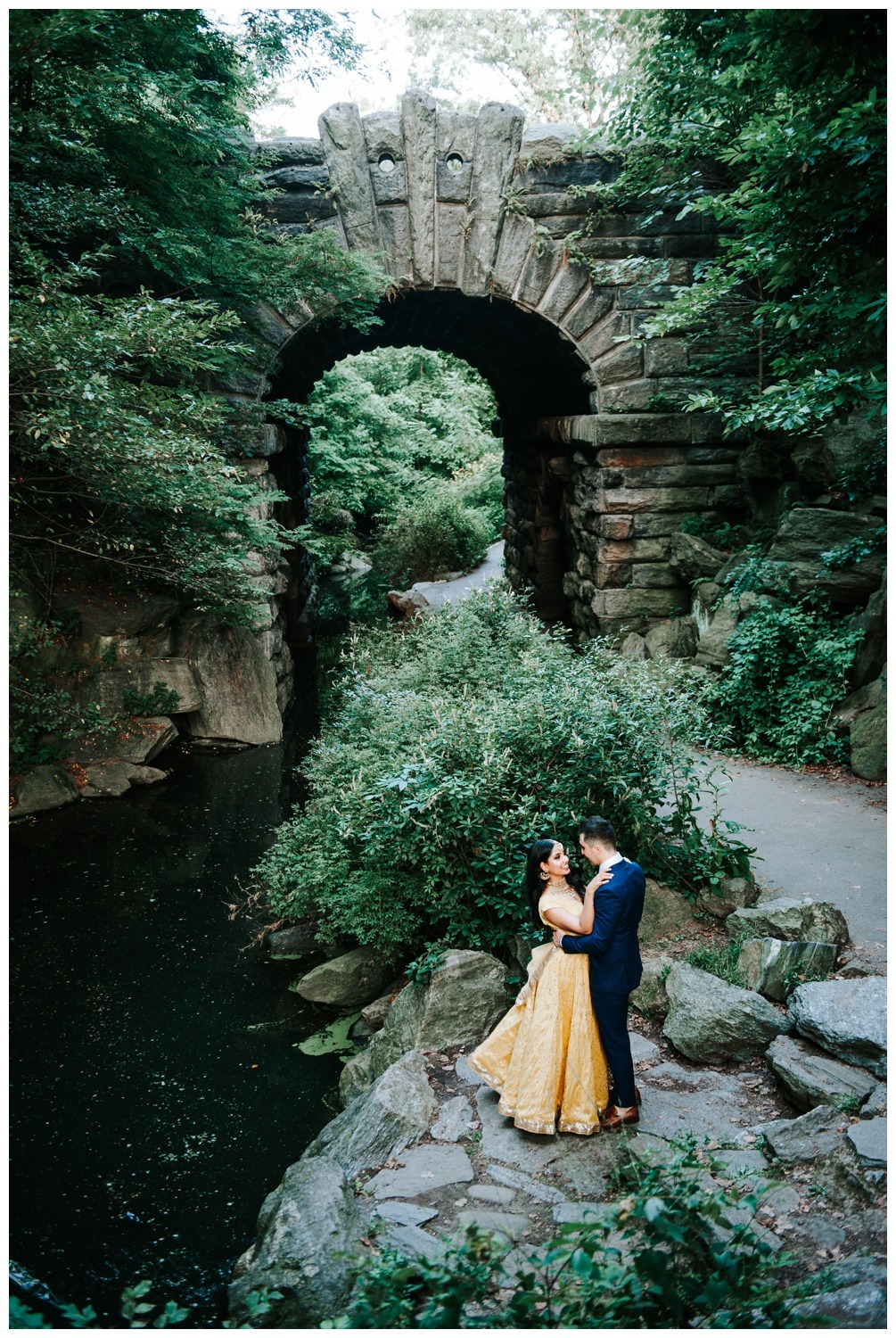 Ditch the Central Park cliches of horse-drawn carriages and rose petals – we're all about NYC elopement packages that are actually fun. It might be touristy, but because it's so large, we know a few hidden, secret spots in Central Park that are perfect for elopements and photos.
If you're a classic romantic at heart, you'll be down to visit Bethesda Terrace, an arched walkway that brings majestic European vibes. We also love the Glen Span Arch in the northern end of the park, complete with a waterfall that's just Pinterest-perfect.
Make it extra: We can arrange our onsite assistant to meet us at Central Park with a killer picnic basket for a wedding picnic in the park.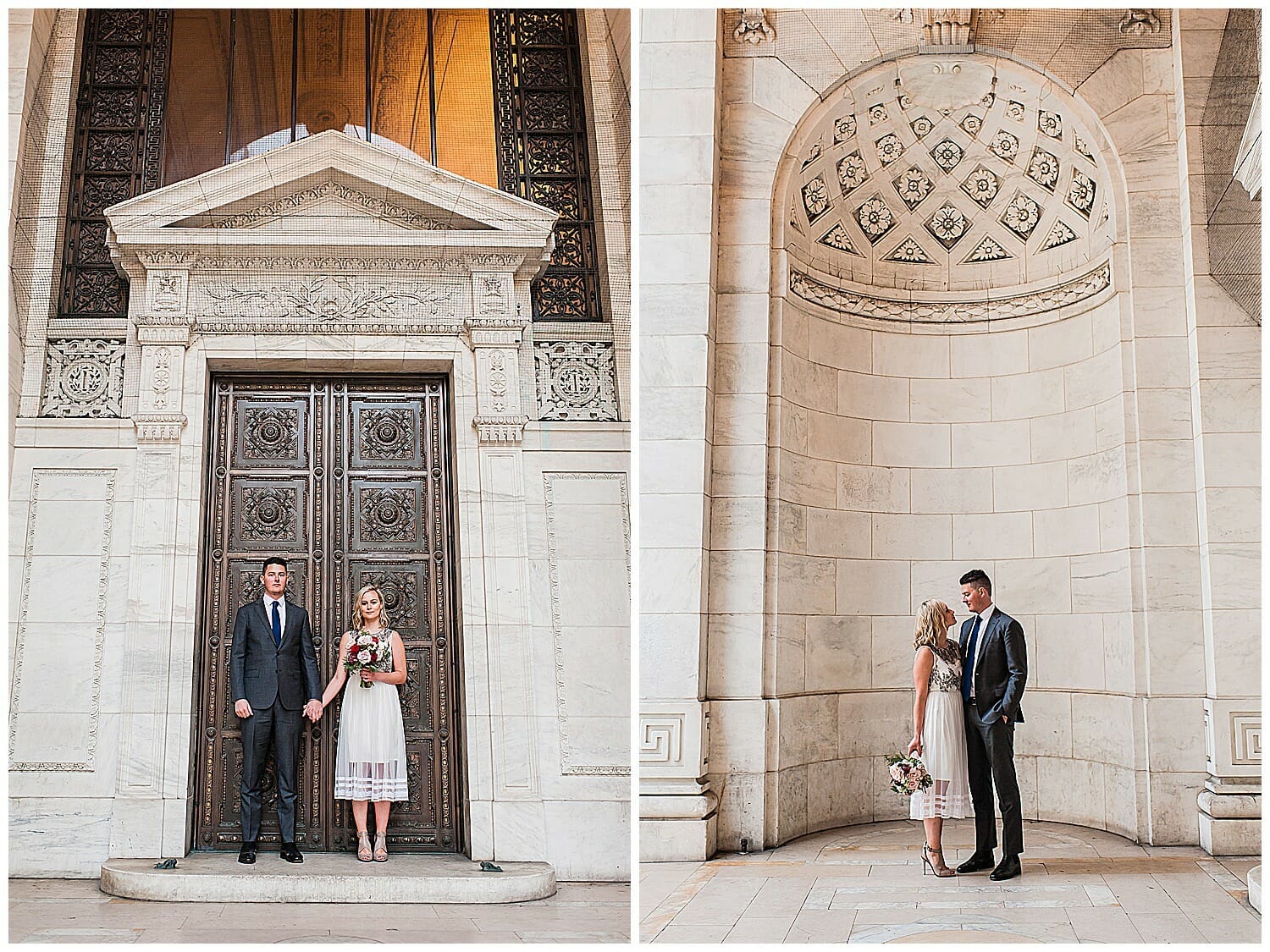 You literally can't get more NYC than the New York Public Library, or NYPL. It was in Sex and the City, Ghostbusters, Breakfast at Tiffany's… It's grand, elegant, and just the kind of place your momma would want you to get married.
But our tip is to ditch the sky-high venue fees and tie the knot on the library's grand steps for a fraction of the cost. This white marble building looks so amazing in wedding photos, and our NYC elopement planner can help with all of the logistics.
Make it extra: Jazz up the grand ol' library with a pop of color – we'll bring eco-friendly confetti and the camera; you bring the smiles.
Live it up with a private NYC Penthouse Elopement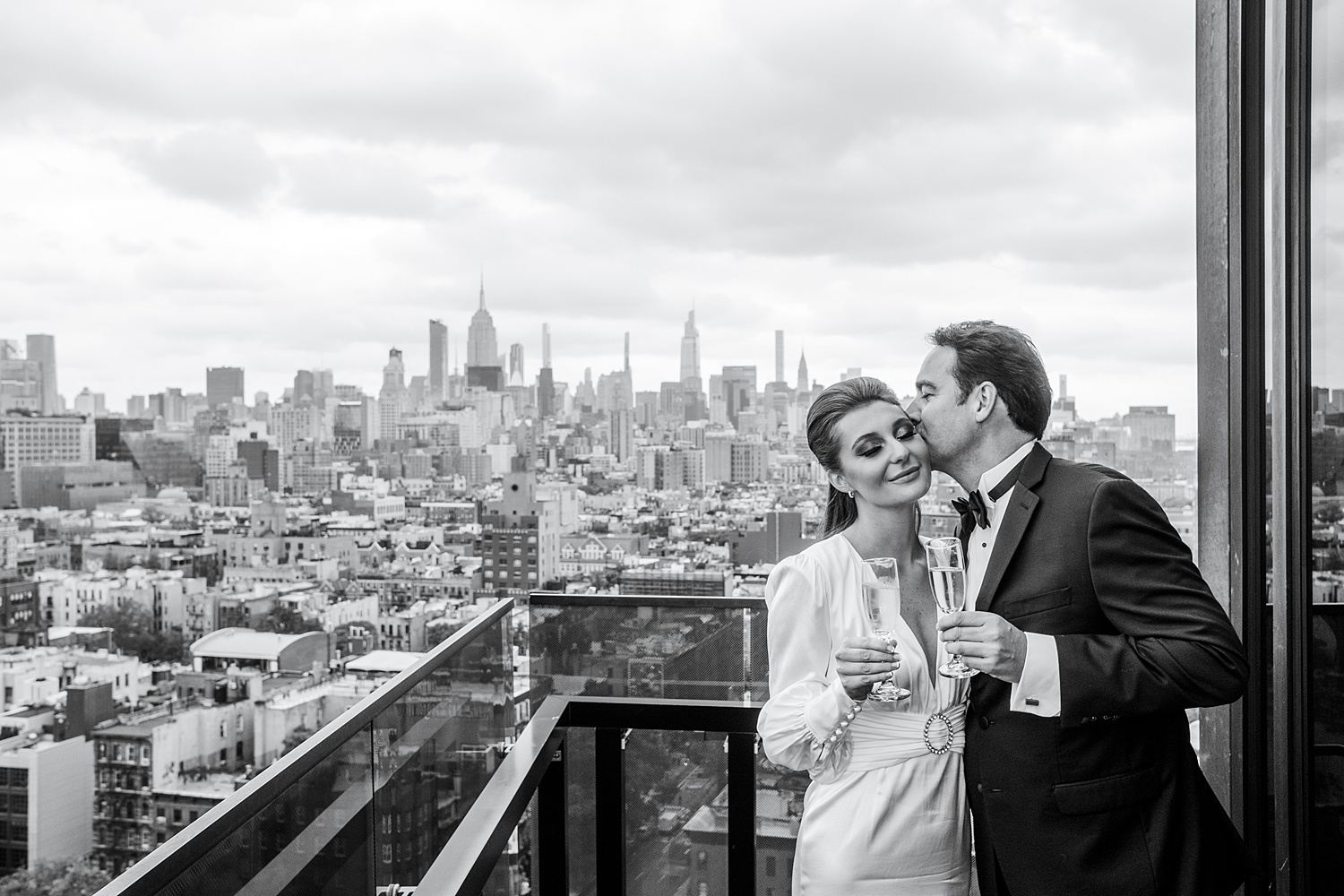 Keen for an indoor elopement in NYC? If you're down to spend a few extra bucks, we can arrange a penthouse terrace apartment at the SIXTY LES Hotel in Downtown Manhattan or another epic location of your choosing.
Privacy, comfort, and luxury, literally above the city? Damn fam, that's an elopement with style!
Make it extra: A marriage works up an appetite, so let us bring in some fine dining, NYC style, so you can enjoy your first meal as a married couple in hella comfort.
Double-decker bus Elopement, NYC style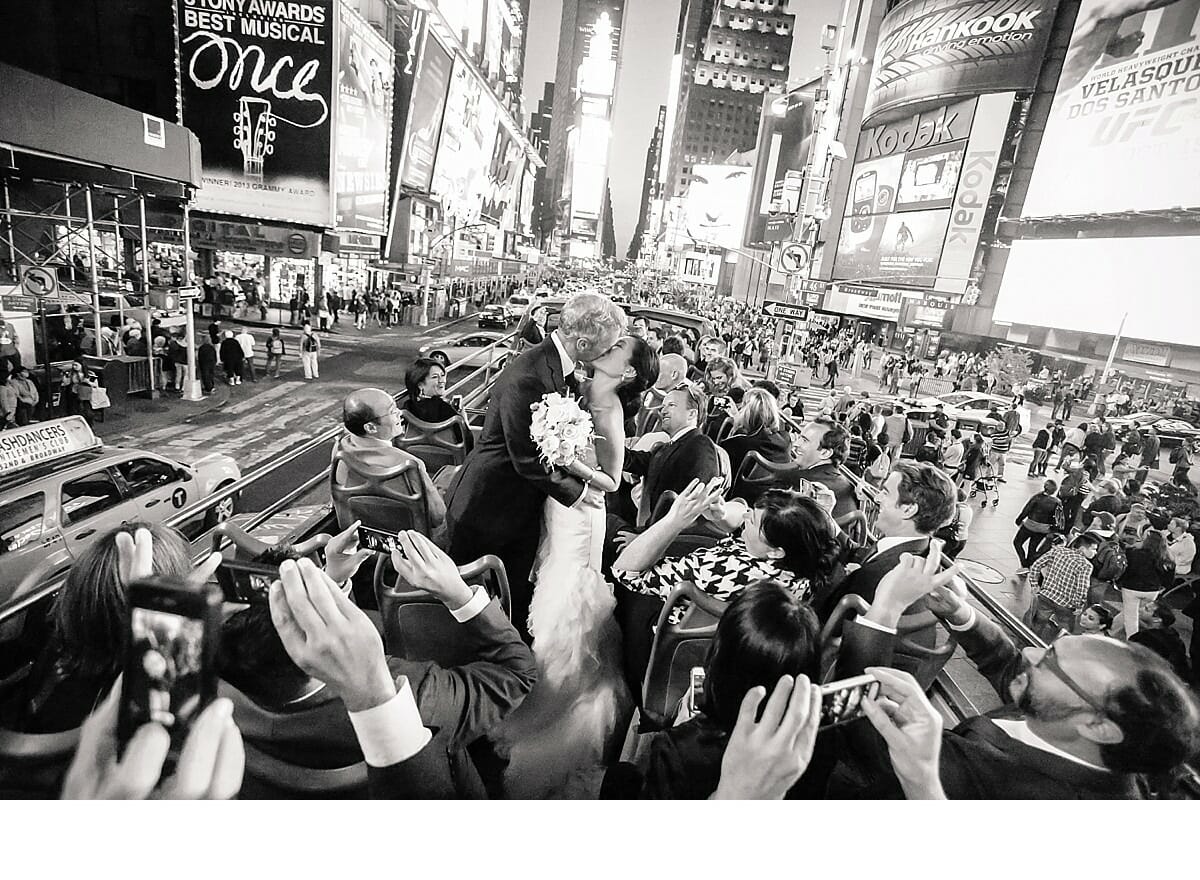 I know we promised fun… So one of our fave eloping in NYC ideas is a bit out there, but hear us out.
Let's jump on a double-decker bus tour as it cruises around Times Square. If it's just the two of you visiting from out of town, this is such a quintessential NYC experience and we guarantee you'll get a raucous round of applause from everyone else on the bus after that first kiss.
Make it extra: How do you make an elopement fun on a bus? Go all out and splurge on a private buyout, bringing along all your buds – a micro-wedding on a bus is exhilarating and extra fun for photos.
Top of the Rock Elopement
Don't look past a Top of the Rock elopement – the Top of the Rock Observation Deck, on top of Rockefeller Center, just oozes classic New York energy.
From the sky-high views to the iconic binoculars, we've seen more than a few proposals and elopements in this super-slick spot. We can help with all-inclusive elopement packages in NYC here, so all you need to do is roll up to Top of the Rock and say your vows.
Make it extra: From soaring above to the city to NYC's best dive bar – let's head to one of our favorite speakeasies for a dirty martini to celebrate your love.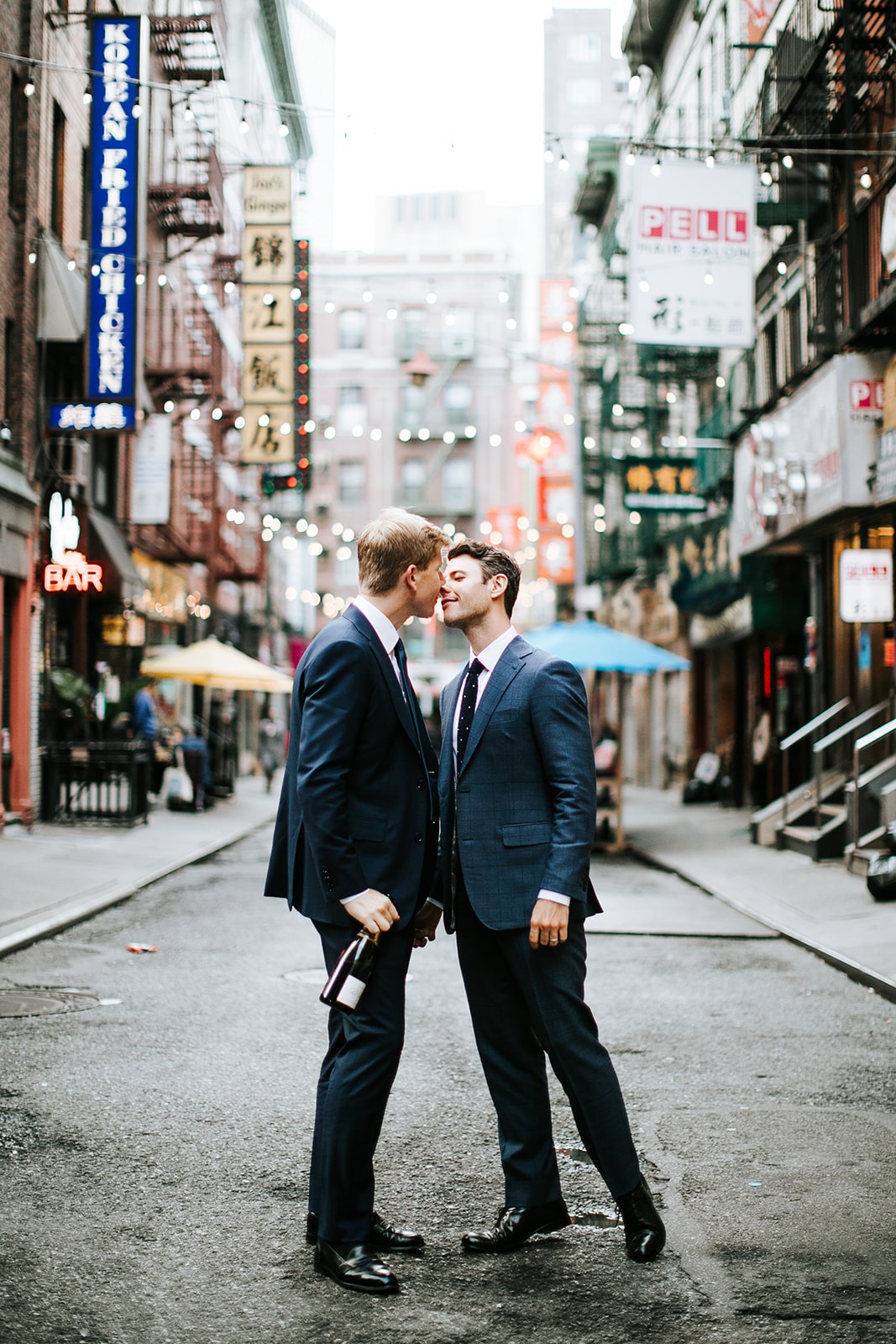 We love spending time in Chinatown. Tons of awesome street art, pedestrian-only streets and secret alleyways to get lost in, and such vibrant energy – it's ideal for couples who live and breathe the atmosphere of the city.
We also can't resist a black sesame or Chinese egg custard at the Chinatown Ice Cream Factory, because eloping works up a beast of an appetite. We've got plenty of NYC elopement photography packages to capture all of those candid moments as you explore Chinatown together.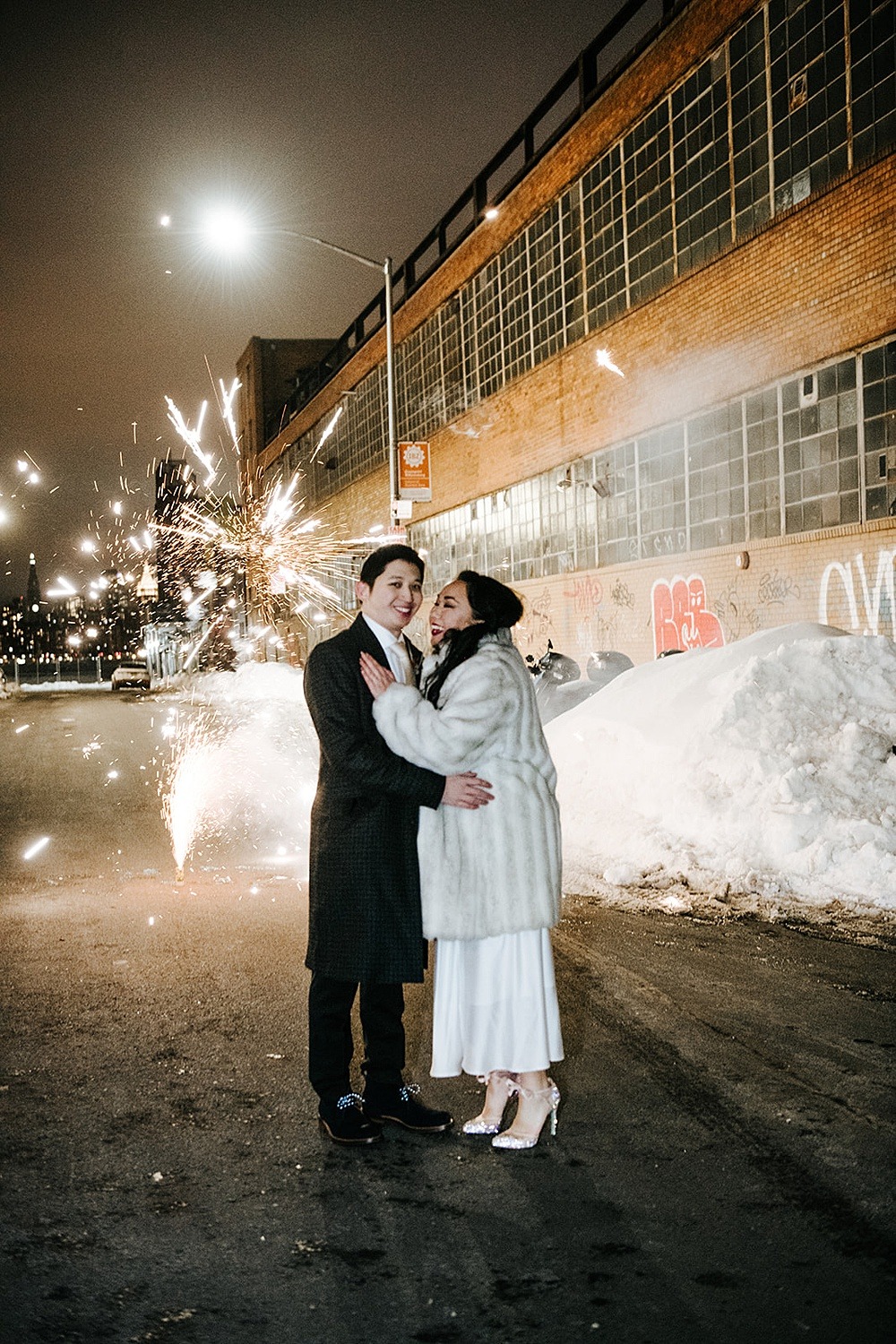 Make it extra: Nothing says love like explosions, so let's set off some (small) fireworks and light up the night.
The Metropolitan Museum of Art Elopement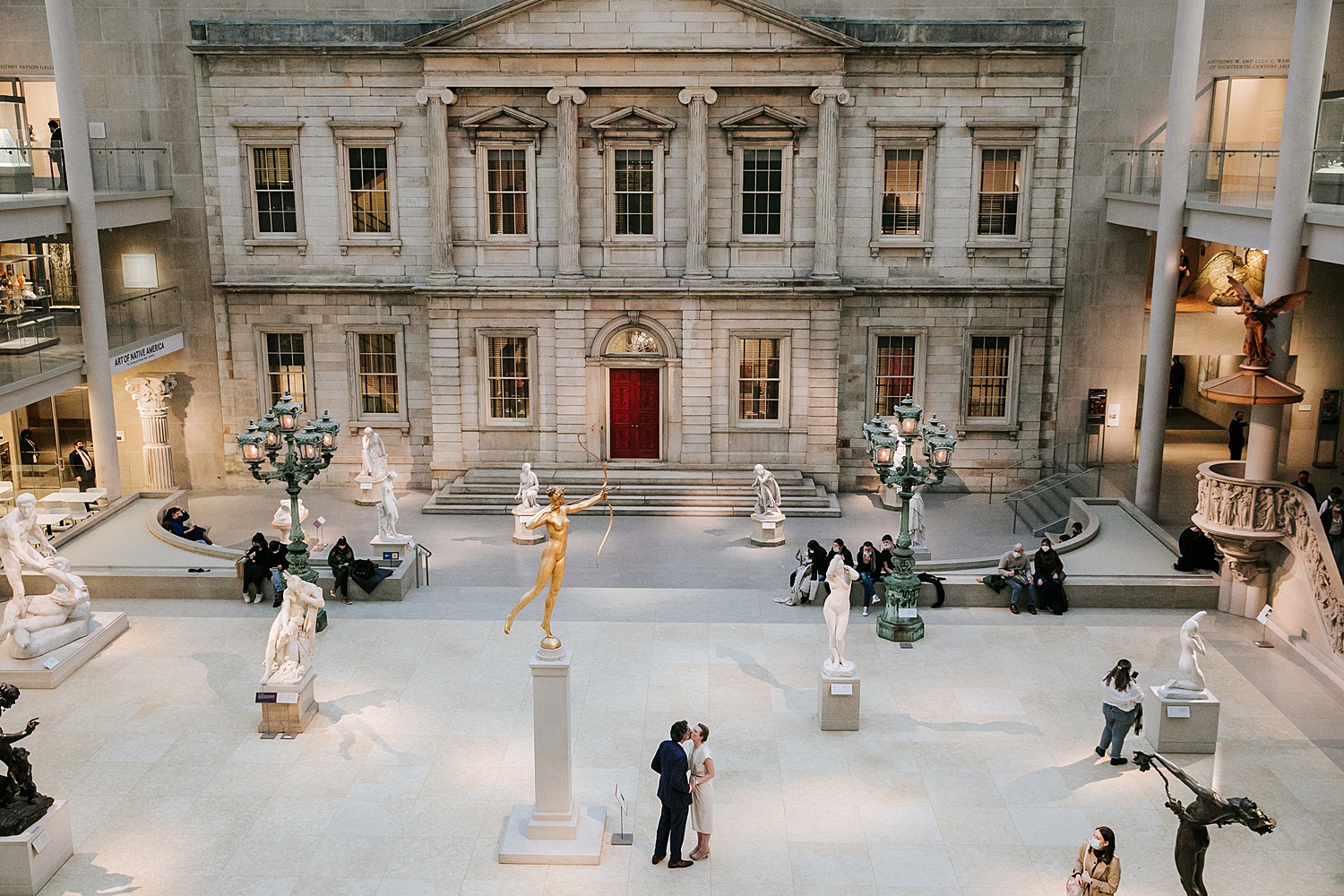 Just one of the world's biggest and best art museums, no biggie.
The Metropolitan Museum of Art is such a cool place to elope and take photos, with its ornate appearance giving us European castle vibes.
The Met is gorgeous in the daytime but also looks super romantic lit up at night, so you really can't go wrong if you're looking for a classic NYC elopement location.
We're very serious about making eloping fun for everyone, whether you're a born-and-bred New Yorker or visiting the Big Apple from overseas. We'll handle all of the boring details for you, so all you need to do is show up looking and feeling fly, ready to have an absolute baller of a time!