Our Eloping Is Fun Guide To Marriage Licenses In NYC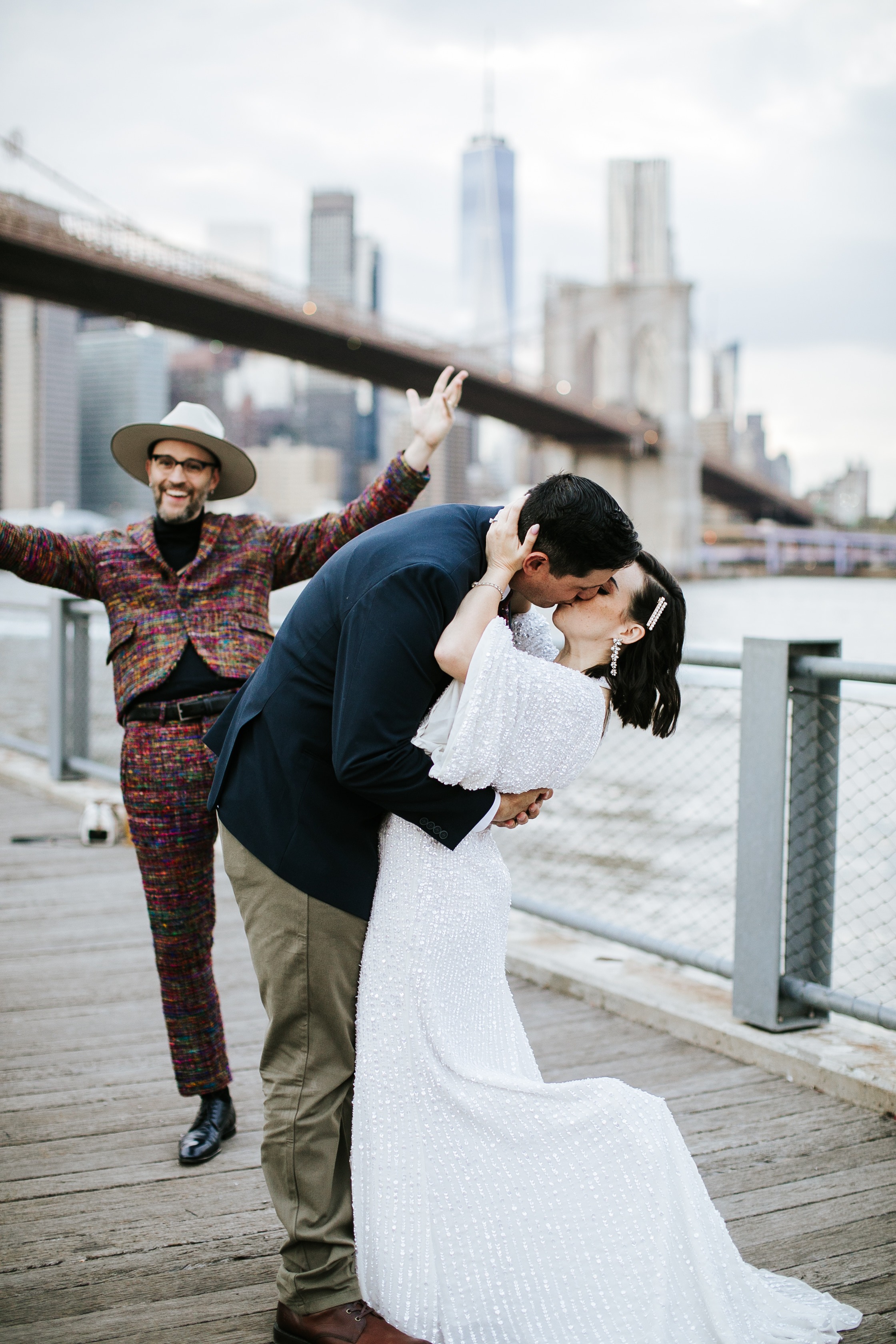 So you've decided on an NYC elopement, which, seriously, is the best (and most fun) way to tie the knot. Champagne sunsets, sky-high views and that amazing New York energy that you just don't find anywhere else — you're going to love it! But before you start poppin' bottles, you need to get the boring stuff out of the way, like getting your marriage license. Don't stress though, as the process is way easier than you might think — this guide to marriage licenses in NYC is designed to make the process as simple as possible for you!
To legally get married in NYC, or anywhere in New York state, you need to first obtain a marriage license. It's something many couples we work with find hella confusing, so here's a step-by-step guide to everything you need to know! Of course, the Eloping Is Fun team is always here to help if you have any questions.
Wait, What Exactly Is A Marriage License - And Do We Need One?
Ok, to get your marriage license, it's best to start by gathering everything you need for the process ahead of time. Marriage licenses are overseen by the Office of the City Clerk, NYC Marriage Bureau. And, like any good bureaucracy, they're going to want to see some proof of ID and documents to verify who you both are.
To save the hassle of running around and looking for them, try to get everything together that you'll need for your application.
First, proof of ID is required for each person. A wide range of documents are accepted, including a driver's license from any US state, IDNYC, an active US Military ID card, an overseas passport, a US permanent resident card or a non-driver identification card.
Been married before? In that case, you'll also need to provide proof that you're no longer married, such as evidence of the divorce finalization.
Good question — a simple answer, if you want your marriage to be legally recognized, then yes, you need a marriage license. A marriage license is a government document that authorizes you to legally get married, so it's something you need to obtain before your ceremony. Getting the license doesn't mean you're already married — think of it as a legal permit that allows you to officially marry.
After you've had your ceremony, and your paperwork has been filed, you'll receive a marriage certificate, which is a legal document that proves you're married to one another.
And what if you're thinking, that's cool, but we just want our elopement to be symbolic, can we do that? Definitely! If you don't want your elopement to be legally binding, then you don't need an NYC marriage license — the choice is totally up to you and both are legit and valid choices.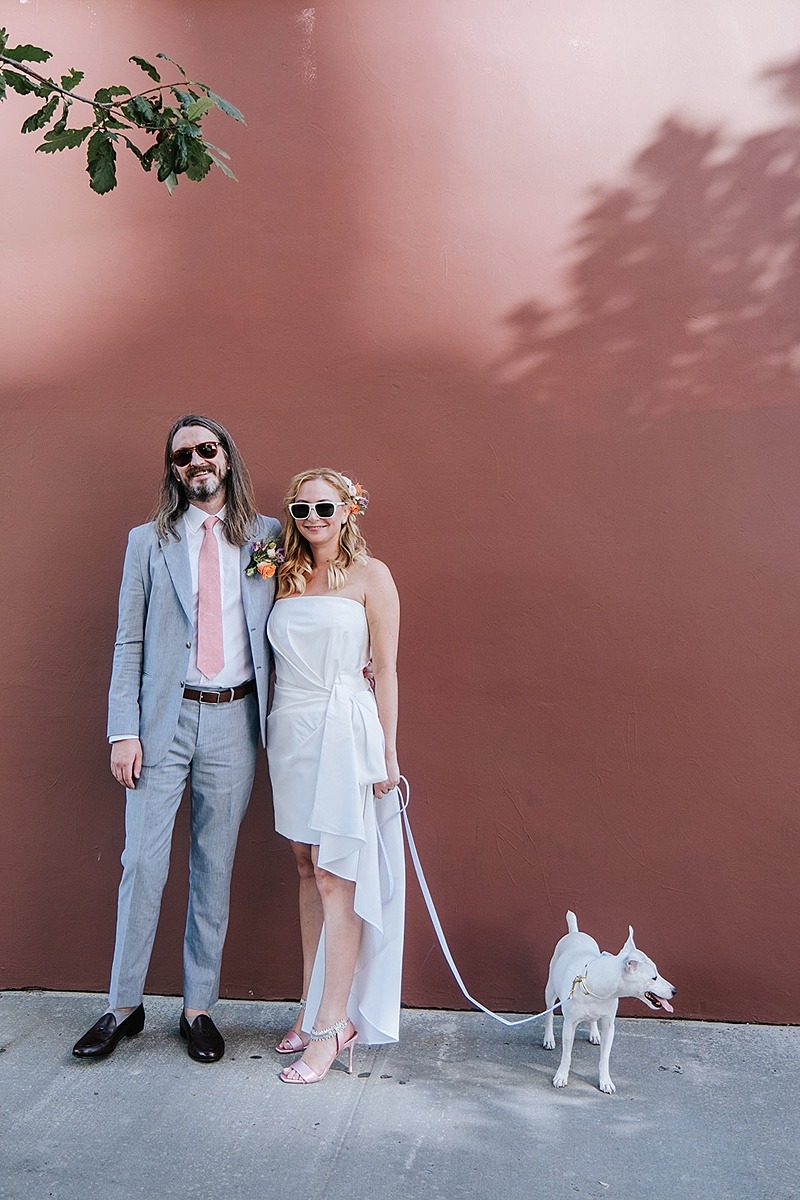 Next, it's time to make a move and submit your application. The good news is that this can be done two ways, online (from anywhere in the world) or in person (if you're already in NYC or you just don't want to leave your house). Online is the quickest way, but there's something kinda romantic and old school about going to the office together to put in your application — you can combine it with a celebratory dinner to kick off the celebrations! Both options essentially work the same way, but here's a rundown of the process
How To Apply For A Marriage License In NYC Online
You can apply for your license in person at one of the several City Clerk offices throughout the city. Important — you can't just show up, as walk-ins are no longer accepted. You need to have an appointment or you'll be outta luck.
How do I get a marriage license appointment in NYC? Super easy, just book your appointment online through the NYC Cupid website. There are offices in Manhattan, Queens, Brooklyn, Staten Island and the Bronx, so select your preferred location and a drop-down booking calendar pops up.
Before your marriage license NYC appointment, you can complete the paperwork online and bring it with you on the day, or, you can complete all the paperwork in person once you get there.
You can apply for your New York state marriage license online via the City Clerk Online, with the paperwork available in several languages.
Once your form is ready, you can book an appointment for a virtual marriage license appointment via NYC Cupid. This was, of course, mega-popular during the pandemic, but the virtual option is still in use for couples who don't want to go in-person. There is a little trick to the online appointments...You and your fiancé will both need to be present in the same room for your virtual appointment. Once your appt is done you will immediately receive your license. Your license is ready to use 24 hours after you receive it. For your virtual appointment the City Clerk stipulates that you both must be in "NYC" but don't worry even if you get an appointment before you arrive in the city, please just tell them you are in NYC and make sure to go on VPN so that your location is not detected or they will not allow you in the virtual meeting! 😉 just get that license baby!
Set your VPN to NYC before you log in for your appt. They will not ask you any specifics... just a basic "are you in NY" and you will say yes that's it! Most important is that your VPN/IP address pings you in NYC. I use express VPN. You have to pay for it. but a VPN is a valuable tool for security/privacy and to be able to watch BBC shows from abroad !
Both parties must be present at the appointment (after all, you're both getting married!)
Pay The Marriage License Fee
Receive Your Completed Marriage License
Yep, no surprise here, but there's a license fee required to submit your application. Luckily, it's a small one (so there'll be plenty of money left in the budget for partying — score!). The current fee is $35, payable by credit card or money order, with money orders made out to the City Clerk.
How long does it take to get a marriage license in NYC? Not long at all — you will receive your license at your appointment.
For office appointments, you'll be given a hard copy of your license, but for virtual appointments, a copy of your marriage certificate from NYC's City Clerk should be available straight after as a PDF you can download.
Either way, give it a quick once over to make sure all of the details are correct, such as the spelling of your names. Otherwise, your license might not be valid, and wouldn't that ruin an awesome weekend? But once you're sure everything is looking good, congrats! You can now officially elope … in 24 hours.
Why wait? Well, it's actually a legal requirement. Keep in mind that, after receiving your license, there's a 24-hour waiting period before you can get married (except in super rare cases where the courts make an exception). This is really important to keep in mind for couples coming in from out of town for just a few days. If you're eloping as part of a weekend away or holiday, aim to get your license on your first day in the city so you can maximize your time.
Your shiny new license is valid for 60 days, so you need to get married within that time (or apply for a new license if it expires). However, if one or both parties are active military personnel, the time period is extended, so you have up to 180 days.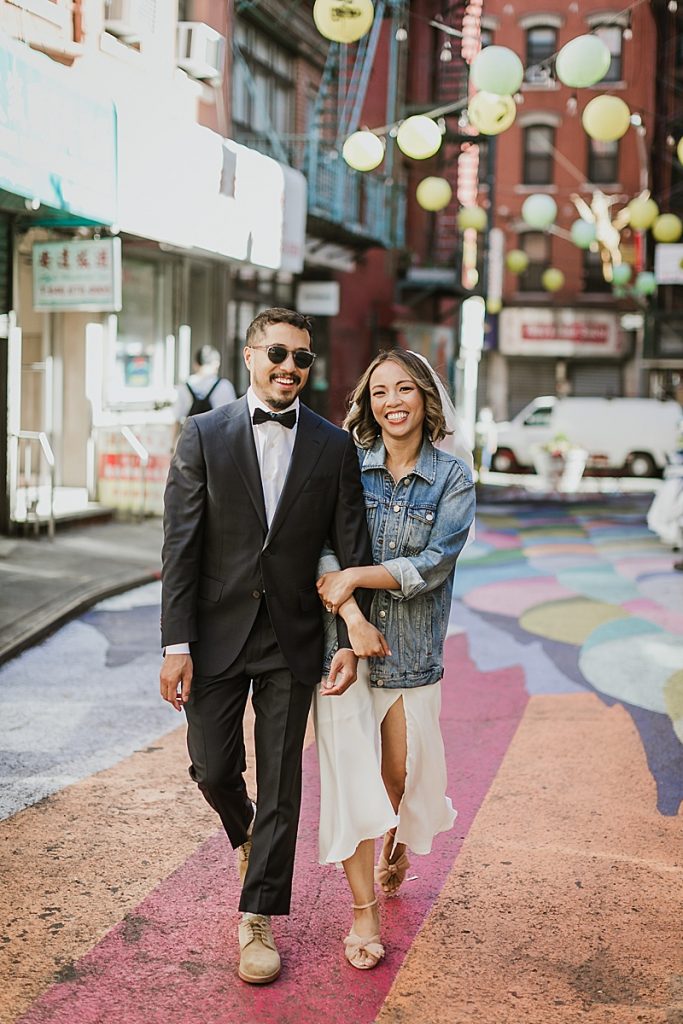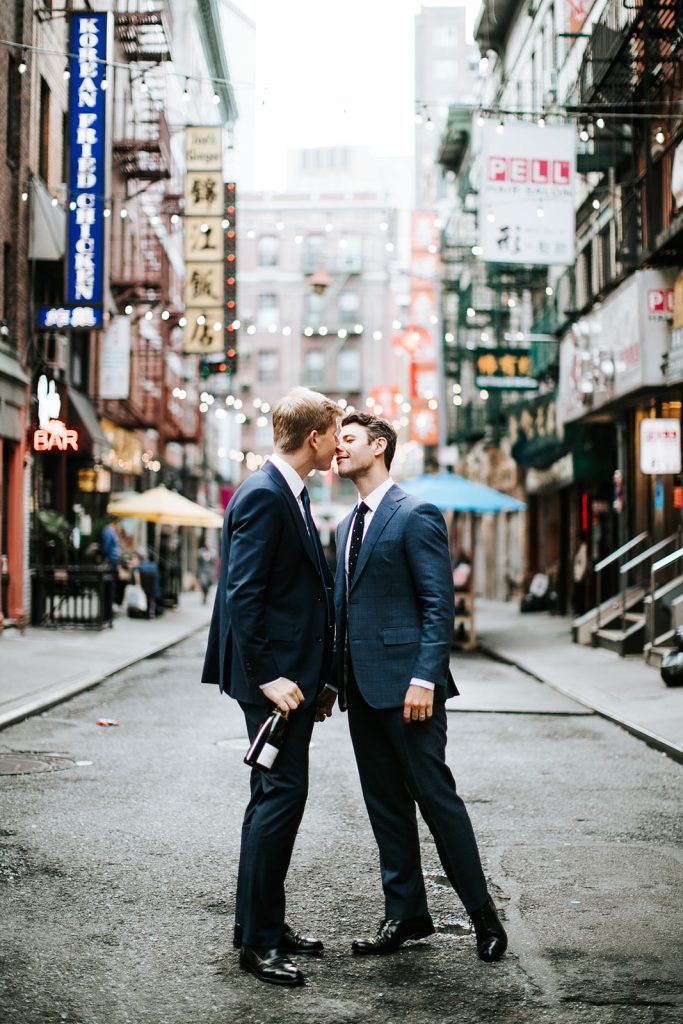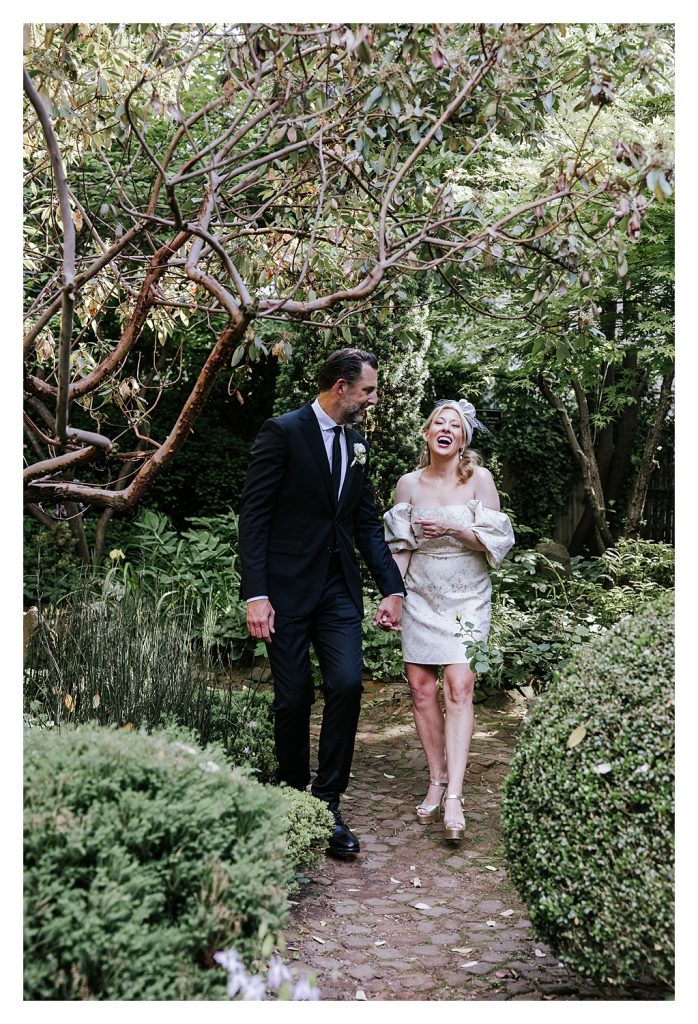 Do The Damn Thing -It's Time To Elope!
You've gotten your marriage license and now the fun can begin! One of the truly awesome things about eloping is that you can do it anywhere, anytime. From a legal perspective, the only requirement is that you have at least one witness, someone who's over 18 and can show identification for the marriage certificate paperwork.
Visiting from outta town? No worries, we're happy to act as a witness on your behalf (and trust me, we'll seriously be just as excited as you are!), as we have several amazing officiants on our team. Other than that, the city is literally your oyster! Elope in private from your epic hotel suite, say your vows at the Top of the Rock, or find a quiet place in Central Park — it's your uber awesome day, so you totally need to go with what feels right for you. You can bring champagne, we'll bring the confetti, or plan an Insta-worthy picnic in one of the city's many parks; there truly are so many killer options for NYC elopements!
Whatever crazy fun elopement idea you're dreaming up, our team can make it happen!
After, File The Paperwork For Your Marriage Certificate
Hopefully, you've now celebrated well into the night, hell, and into the next few days too, but don't forget that there's one final step in the marriage license process.
Once the ceremony is complete, you'll need to submit the completed license, signed by you, your partner and your witness, so that you can get your marriage record or marriage certificate. This is an official state document that verifies you're both legally married to one another.
Your certificate will then be mailed to you, but if by any chance you misplace it in the future, no dramas — for a small fee, you can order a replacement copy.
This certificate will officially acknowledge your marriage throughout the US, not just in New York state. However, if you're from overseas, your country might have additional requirements to verify an overseas marriage, so it's always best to check ahead of time so you're prepared. Your consulate or embassy should be able to advise.
• WHEN SHOULD YOU GET YOUR MARRIAGE LICENSE IN NEW YORK?
• CAN YOU GET MARRIED THE SAME DAY YOU GET YOUR MARRIAGE LICENSE IN NEW YORK?
You need, at an absolute minimum, to get your license at least 24 hours before your planned elopement. However, you have up to 60 days to use it, so for sure it's ok to get it in advance to save yourself time.
Nope, the days of shotgun weddings are long gone. As mentioned above, all licenses come with a mandatory 24-hour waiting period, so you can't get your license in the morning and then get married that evening.
• CAN OVERSEAS TOURISTS GET A MARRIAGE LICENSE IN NYC?
• HOW MANY WITNESSES DO YOU NEED TO GET MARRIED IN NEW YORK?
New York City is truly a city for everyone — and that applies to weddings too! You can elope in NYC, even if you're just in the country on a tourist visa. However, as mentioned above, you'll still need to meet all of the requirements to obtain the marriage license first, but the process is still pretty cruisy.
Just note that if your legal government docs are in a language other than English, you may need to provide certified translated copies. We can help with that too!
Just one! That person needs to be over 18, but it can be anyone — a family member, friend, or even your elopement photographer. If you're struggling with finding someone, we can help.
You can invite as many friends and family to your elopement as you like (the more the merrier!) but only one of them would need to act as the official witness.
• WHO TURNS IN THE CERTIFICATE TO THE CITY?
9 times out of 10 our officiant mails it for you! Some couples want their license back ASAP for a variety of reasons so you can choose to make another appointment with the clerk, bring it with you in person and get it back same day ,but it's hard to get an appointment. Most folks prefer for our team to handle it.
Unless it's a rush get it we recommend giving it your ole John Hancock on the big day and let us handle the rest! You will receive it back at your address is 6-8 weeks!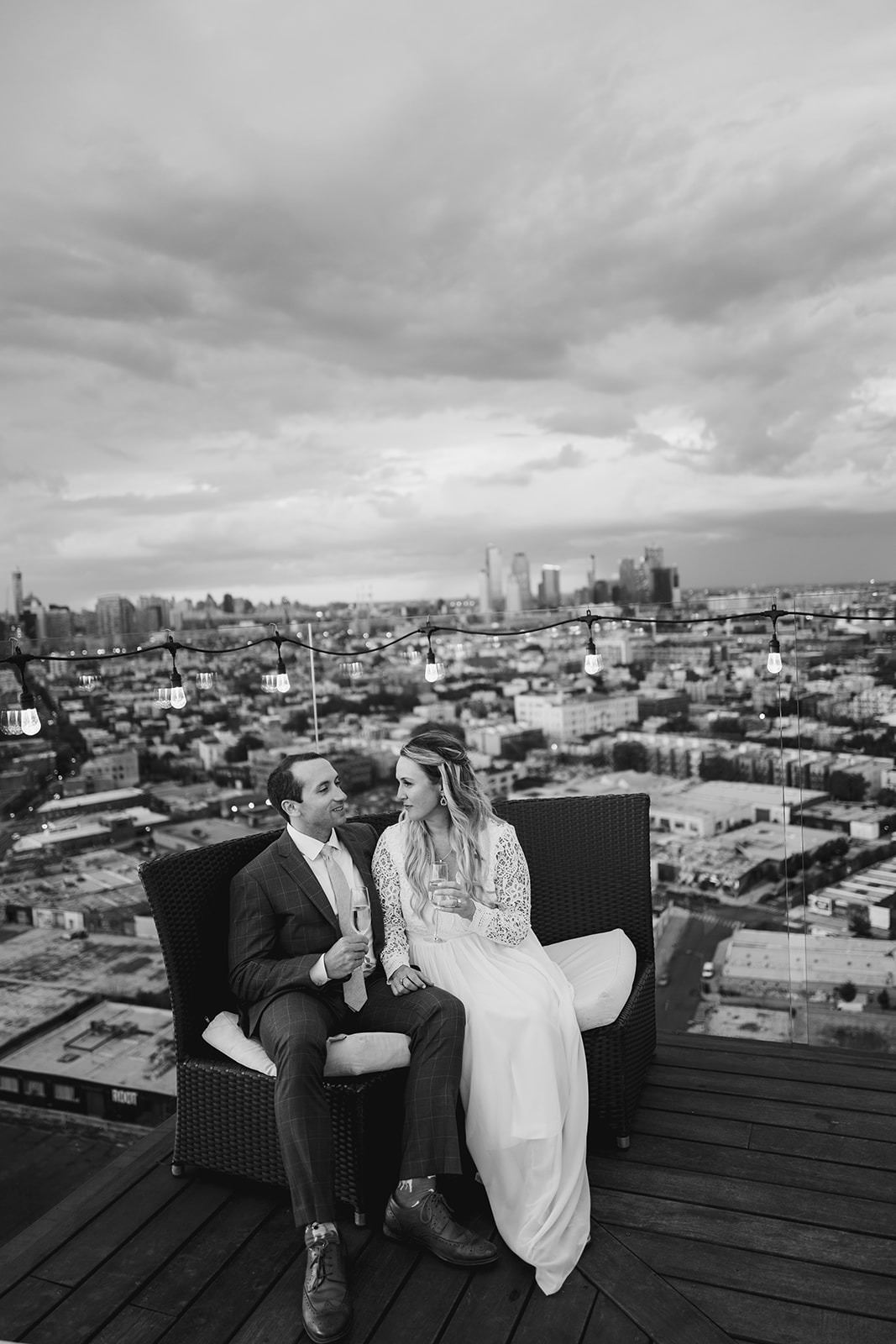 We might be a little biased, but NYC is easily the best city to elope in if you're visiting from overseas! It just oozes fun, charm and excitement with tons of iconic locations where you can say your vows.
There you go — NYC marriage license 101! As you can see, the process is really not overly complicated and it's just a small bit of admin before you get to the good stuff — your amazing elopement!
If you have any questions about eloping in NYC, planning your awesome adventure or the marriage license process, you know we've got your back and the legends at Eloping Is Fun are always here to help!