Many of you will be coming from far away in order to elope in NYC, so we wanted to share some reviews from past couples who experienced our elopement packages in New York. Settle in and get a taste of what your Eloping is Fun experience will be like.
Thank you to all the couples, past, present, and future, who have entrusted us with your special NYC adventure. We seriously have the best job in the world.
See what our couples have to say about choosing an elopement with us
Other than my amazing choice of life partner, choosing EIF was the best decision I could have made in regard to my wedding day. Not only did they demonstrate just how fun - and absolutely beautiful! - eloping can be, but they made it so wonderfully easy. All of our queries were answered and assuaged in record time. Jenny has REALLY thought of everything (e.g. back-up locations; various payment options, especially for those eloping in NYC from abroad) and it shows in how seamless the entire process is. Furthermore, Jenny and the team recognize that it's all in the details and absolutely no detail was overlooked in any aspect.
Our wedding day was better than we anticipated and that was in no small part due to Shula and Jonica. Shula collated and presented our story in the most heartwarming way and Jonica was lovingly patient as she exercised her keen eye for the perfect shots.
Thank you so much for EVERYTHING, Jenny, Jonica & Shula! Thank you for helping us exceed our expectations of an intimate wedding day that was memorable beyond words and perfectly personalized to us & our story. We hope to work with you all again should we ever have a bigger family celebration or renew our vows.
Kay + Aaron
UK + NYC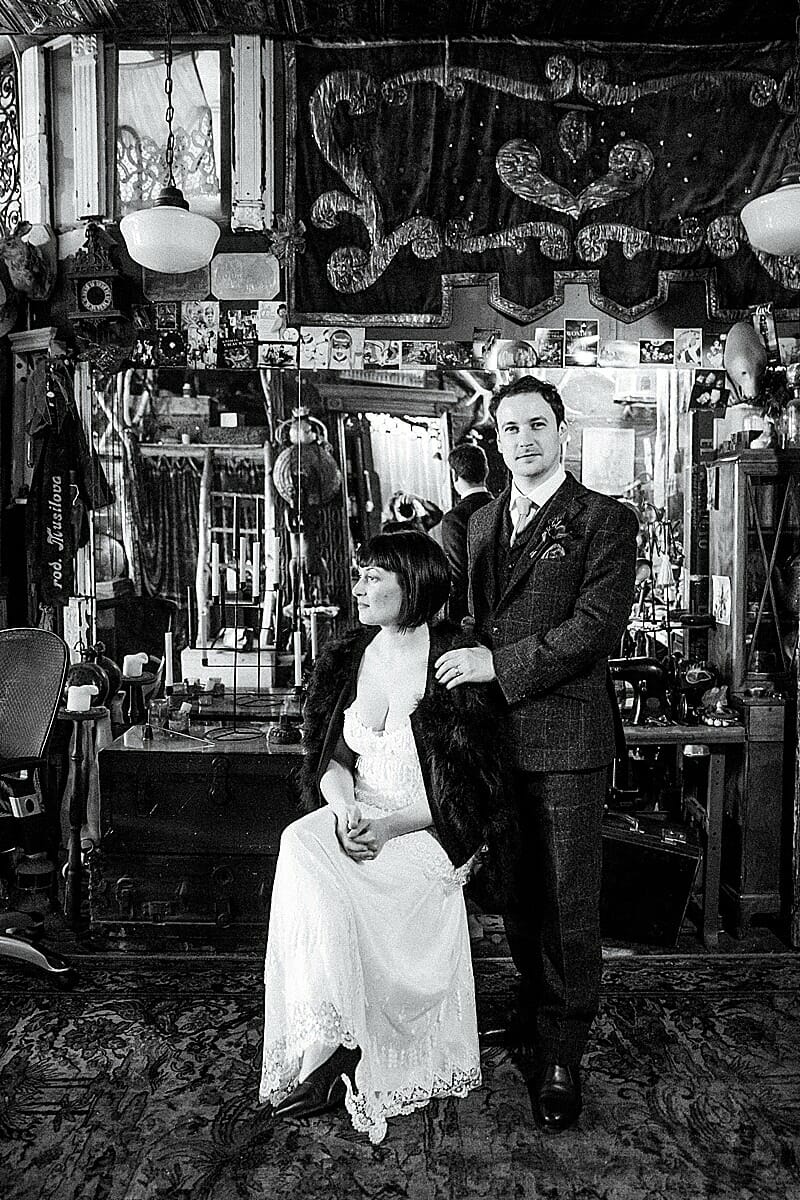 With so many NYC Elopement Companies out there we really didn't know where to start - however, as soon as I received the first email from Jenny at 'Eloping is Fun' I knew we had found the people to make our day the most memorable it could be. Incredibly efficient while being extremely personable, Jenny's response times, suggestions and involvement in every aspect of planning our day was more than we could have hoped for - we would have been completely lost without her not being NYC natives ourselves! Then on the day itself both Jenny and Matt were incredible, they made us laugh and cry, and any nerves and anxiety we had were completely dissipated. They are the epitome of professional and we couldn't recommend them highly enough. If you are floundering on which elopement company to use for your NYC getaway, choose Eloping is Fun - you won't regret it!
Carrie + Ollie
Edinburgh, Scotland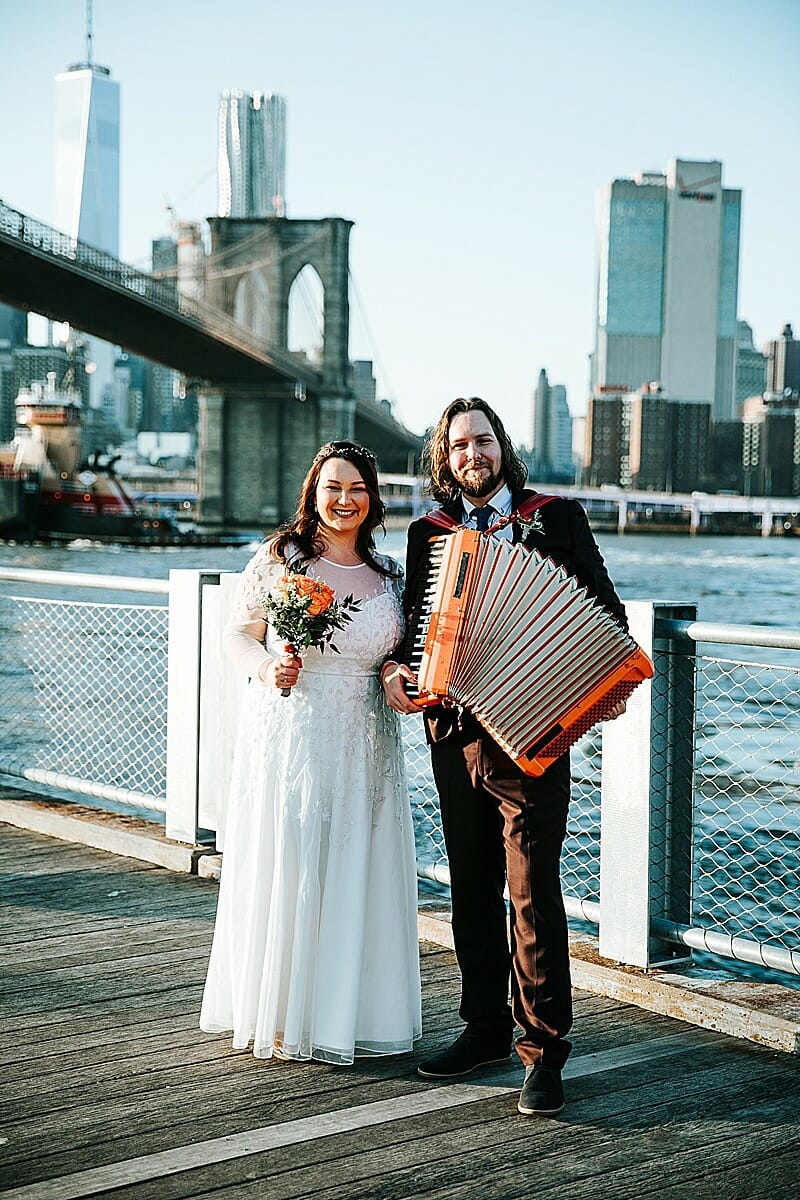 We are a UK couple who wanted to elope to NY, no guests, no judgement, minimum stress... Jenny and Matt from the EIF team made our wish a reality. We had 3 months to plan what we wanted and they made it so easy for us, allowing us our day our way, which left us more room to manoeuvre all the other stuff back home in preparation. They also made great local recommendations for hair/make up/restaurants etc.. which we made full use of. The communication was fast despite the time difference and they added nice touches along the way to make us feel that we had not only made the right decision, we were actually more excited about it rather than stressed.
The reading on the day moved us both to tears, they ensured that our personalities were stamped firmly within the reading and they helped us choose a setting and time which was just perfect for us and for what we wanted. We loved Matt Dallow's calming presence, reading pace and fantastic shoes /accordian! Jenny's enthusiasm for getting a good photograph and her easy going manner and sense of humour made us awkward Brits feel comfortable and dare we say, relaxed!?
Suzy + Rob
Bedford, UK
A 'Gorilla" style wedding at the Natural History Museum of New York. If your dream is a New York Wedding, which is professional, personal, intimate, great fun with wonderful photographs look no further then Jenny and Matt - Eloping is Fun.
From the moment we made contact with Jenny we knew we had found our 'team', planning the wedding from England we had to feel confident that we had an emotional connection with the team and we had that from the first correspondence by e-mail.
I can not put into words just how special our service was. Matt then carried out the service which was beautiful, hilarious, moving it was as though we lived next door to each other and we were best friends he was perfect. If you wonder what you are paying for, don't..... trust the reviews and use Matt. We will never ever be able to thank him enough.
Thank you so much for making our wedding so wonderful, quirky, magical and memorable.
Miles + Gerry
Cambridge, UK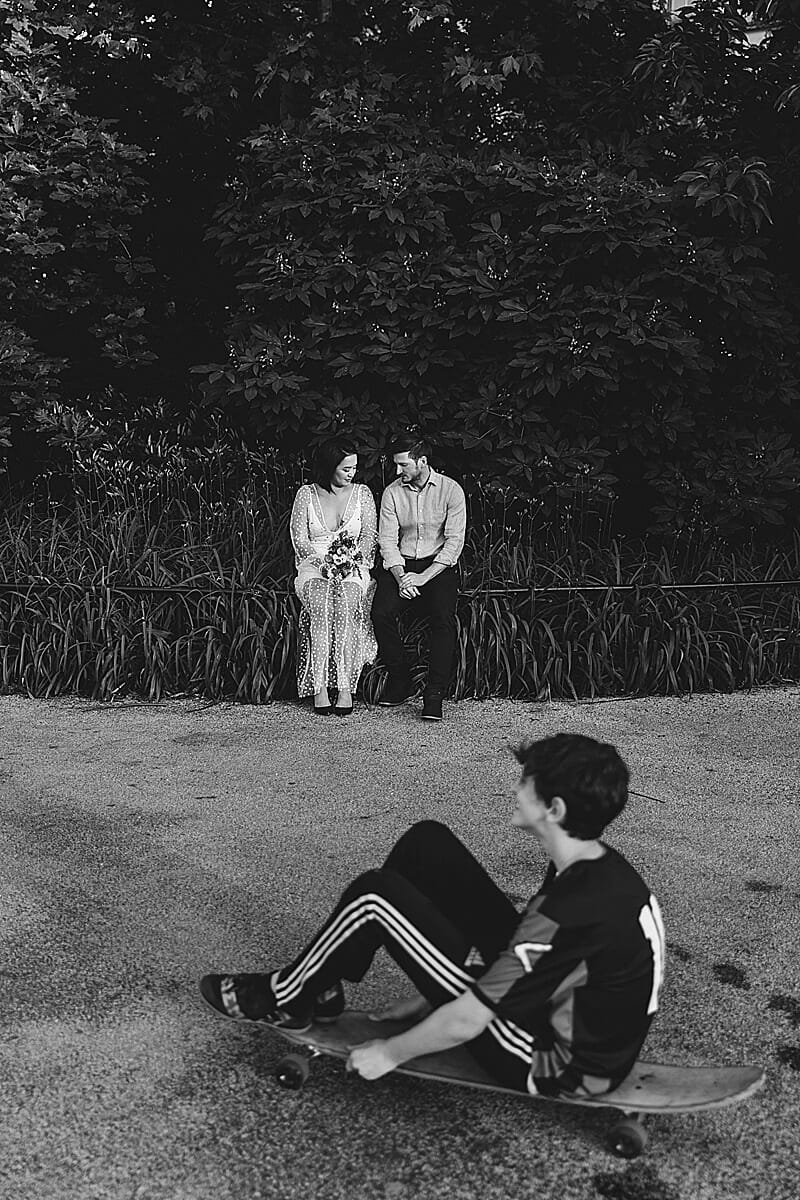 Is it possible to elope twice? We had so much fun last week with Reverend Love & Jenny that we'd honestly do it all over again. Jenny was a dream to deal with from start to beginning and her handy little black book meant that we had helpful guidance as non New Yorkers of the best places to eat, get flowers, make-up the lot! We left her to direct the photos as we knew she'd have the best eye for it.
Rev Love was incredible and wrote the sweetest speech of our story. We LOVED his outfit and it really made the photos pop - even our friends and family have commented on the "man in the yellow pants"!
We couldn't recommend Eloping is Fun enough. The whole process was smooth and relaxed and really made for the best experience.Thanks to the whole Eloping is Fun team, we'll hit you up when we need to renew our vows or something!
Haidi and Will
NSW, Australia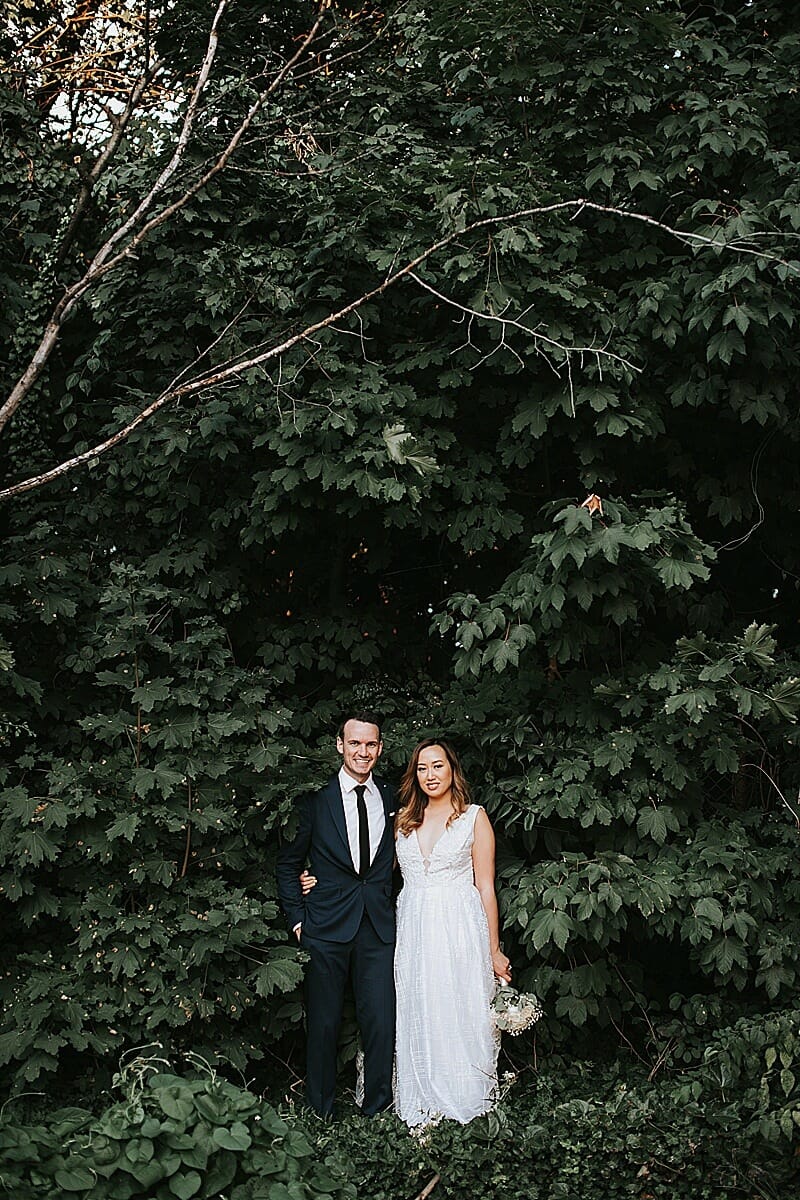 We had the best experience with eloping is fun. From our first contact right up to the day, everything was so perfect and easy. Living in Australia it was really important for me to be able to communicate via email in the lead up, which was a breeze with Jenny! Jenny replied to all my emails within hours and the online platform for booking and payment was great. Jonica was our photographer and Shula was our officiant, both exceeded our expectations. Shula was gorgeous, so bubbly and easy going, it made us feel at ease straight away. Jonica....what a delight!!! She made the shoot so fun that the time flew by and the shots are so unique and beautiful! We felt so special. Please use eloping is fun if you are thinking of eloping in NYC, you won't regret it!!
Yolanda + Brad
Queensland, Australia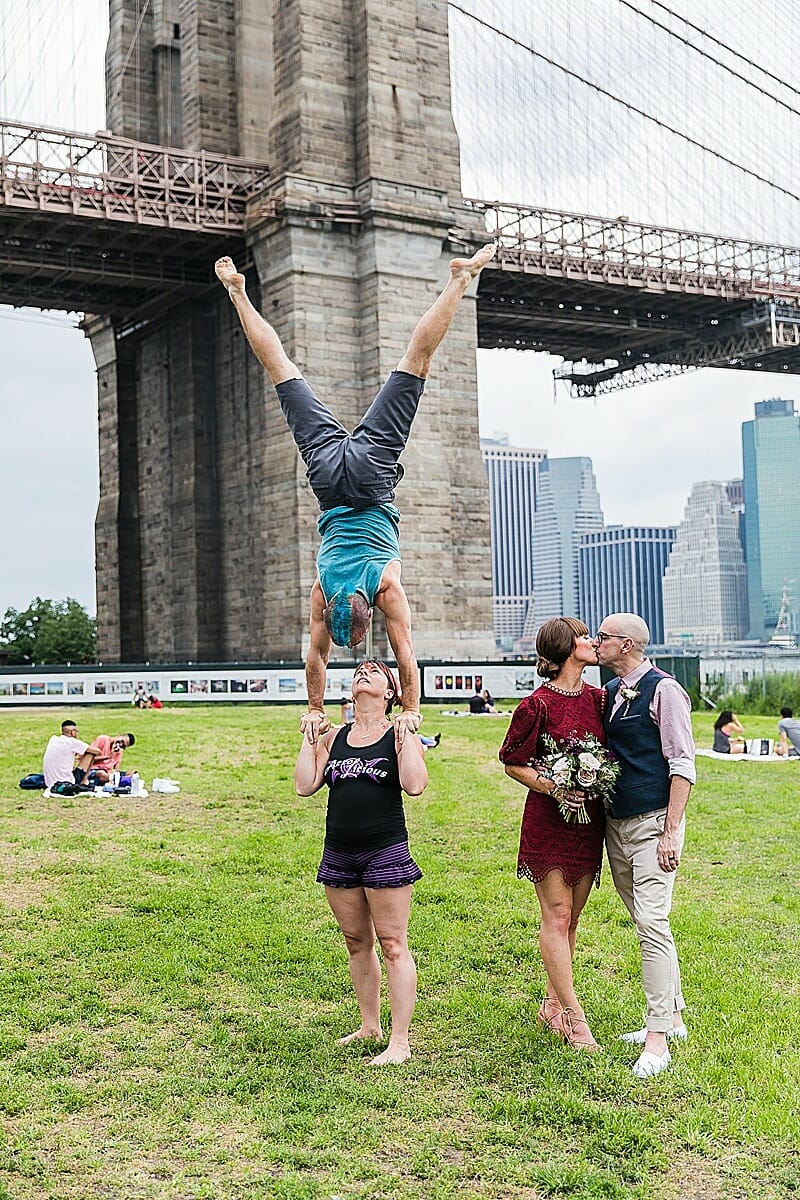 Every couple wants their wedding day to be perfect, fun and stress-free. Matt and Jenny of Eloping is Fun gave us exactly that! They really do go above and beyond for you and make you feel special. Every detail was thought of in advance, they provided plenty of prompt support, gave recommendations for all the other services needed and from one short email brief, they understood us as a couple exactly and wrote the most perfect ceremony and also knew exactly where to take us for photos. You are in excellent hands with them. I couldn't recommend them more highly.
Brooke + Jon
NSW, Australia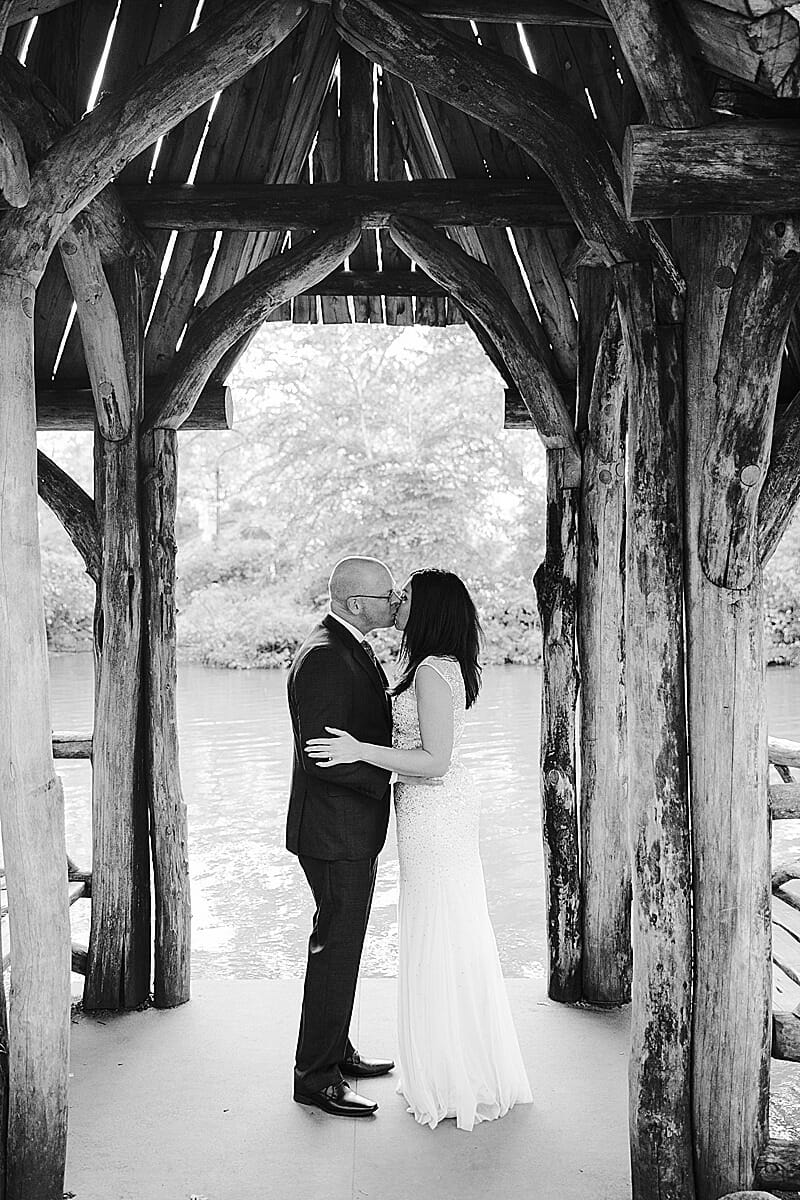 Deciding to have Jenny photograph our wedding and have Matt officiate was the best decision we could have made! We had so much fun with the two of them and our only regret is that we didn't learn about Matt's New York tour guide company sooner!! The photos Jenny took were outstanding and the ceremony Matt prepared is one we will never forget! Count yourself lucky if you've managed to stumble upon these guys because they are simply amazing!!!!!
Rebecca + Chris
British Columbia, Canada
I have never been happier than I was on my wedding day. Spending a few hours with Jenny, so down to earth, funny and approachable, exploring Bushwick and Dumbo for some amazing photos! The ceremony was funny and memorable and Matt was lovely and professional. An amazing day after lots of planning. Jenny always responded promptly to all my enquiries and never made me feel like I was asking too many questions! Can't wait to see the photos! Top work!
Aleeah + Mitchell